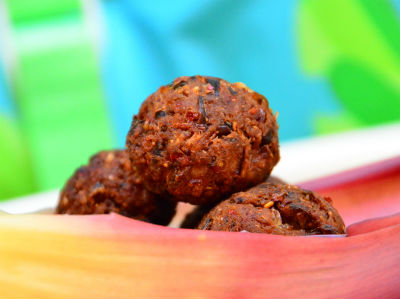 Ingredients:
Vazhaipoo (Banana Flower) – 1, cleaned, cut, chopped
Small Onions – 100 gms, finely chopped
Green Chillies – 4 to 5 (or as desired), finely chopped
Ginger Garlic Paste – 2 tsp
Roasted Gram Flour – 250 gms
Curry Leaves – few, chopped
Coriander Leaves – few, chopped
White Sesame Seeds – 100 gms
Cashewnuts – 10 to 12, finely chopped or crushed
Sour Curd – 1 cup
Oil as required for frying
Salt as per taste
Method:
1. Mix a little water and curd in a bowl.
2. Add the vazhaipoo and keep aside for 5 minutes.
3. Drain and add salt.
4. Pressure cook the vazhaipoos and remove all excess water.
5. Transfer to a mixer jar and grind coarsely.
6. Combine the onions, green chillies, ginger garlic paste, salt, curry leaves, coriander leaves, cashewnuts and ground vazhaipoo.
7. Mix well.
8. Add gram flour slowly and knead to a chapati dough like consistency.
9. Once the consistency is achieved, stop adding the gram flour.
10. Make small balls of the mixture and roll them in the sesame seeds.
11. Keep the balls in the fridge for a few minutes.
12. Heat oil in a deep frying pan.
13. Add the prepared balls and fry till golden brown.
14. Remove and drain excess oil.
15. Serve hot as a side dish with biryani or sambar rice.
image credit: ohtastensee.com