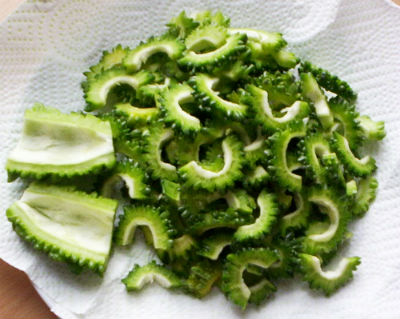 Ingredients:
Bitter Gourds – 100 gms, outer skin scraped, cut lengthwise into half, seeds discarded
Onion – 1, cut into slices
Oil – 1/2 tblsp
Tomato – 1, medium, finely chopped
Garlic Paste – 1/4 tsp
Coriander – 1/2 tblsp, chopped
Vinegar – 1/2 tblsp
Sugar – 1/2 tsp
Salt as per taste
Recheado Masala Powder – 1/2 tsp
Method:
1. Cut the bitter gourds into thin slices and apply salt.
2. Keep aside for an hour or two.
3. Then rinse well and squeeze out the excess water.
4. Heat oil in a pan.
5. Fry the onions till opaque.
6. Add garlic paste and tomato.
7. Fry for 30 seconds and add the recheado masala powder.
8. Add the bitter gourds and stir well.
9. Add a tblsp of water and cook over low heat for 3 to 4 minutes.
10. Add vinegar, sugar, coriander and salt.
11. Cook for 3 more minutes, stirring from time to time.
12. Serve hot.
Recheado Masala Powder is available in most major supermarkets.