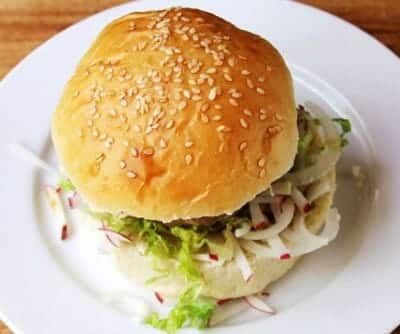 Ingredients:
Onions – 2 to 3 tblsp, finely sliced
Brinjal – 1/2, cubed
Tomato – 1, finely sliced
Chickpeas – 200 gms, soaked for few hours, rinsed and drained
Garlic – 1/4 tsp, grated
Salt as per taste
Sunflower Oil – 1 tblsp + extra
Coriander Leaves – 1 tsp, chopped
Carrot – 1/4 cup, finely sliced
Oats – 2/3 cup
Sesame Seeds – 1/2 cup
For the dressing:
Coriander Leaves – 1/2 tsp, chopped
Zest of Lemon – 1 tsp, finely grated
Plain Yogurt – 1/3 cup
To Serve:
Burger Buns – halved, toasted
Sliced Onions, Cucumbers, Capsicums
Mustard Sauce
Ketchup
Cheese Slices (optional)
Method:
1. Heat oil in a pan over medium flame.
2. Saute the onions for a minute or two.
3. Add the brinjals and cook for 2 to 3 minutes.
4. Add tomatoes and cook for another 2 minutes.
5. Transfer to a mixer jar.
6. Add chickpeas, garlic and carrots.
7. Grind coarsely.
8. Transfer to a bowl.
9. Add oats, coriander leaves and mix well.
10. Shape the mixture into small patties and roll them in the sesame seeds.
11. Heat oil in the pan.
12. Stir-fry the patties for a minute or two on each side until golden brown.
13. Remove and transfer to a plate.
14. To make the dressing, mix all the ingredients and transfer to a cup.
15. To serve, place the burger patty in the center of a halved bun. Top up with sliced onions, cheese, cucumber, capsicum, mustard and ketchup. Place the other half of the bun on top and serve.