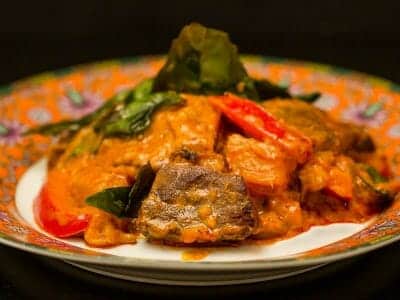 Ingredients:
Duck Thighs and Legs – 750 gms
Coconut Milk – 200 ml
Chicken Stock – 1 1/4 cup
Fish Sauce – 1 tblsp
Lime Juice – 1 tblsp
Oil for frying
Red Chilli – 1, small, chopped, seeds removed, to garnish
Coriander Leaves – few, to garnish
For the Tamarind Paste:
Tamarind Concentrate – 2 1/2 tblsp
Sesame Oil – 1/2 tblsp
Dark Brown Sugar – 2 tblsp
Lemongrass – 1, small stalk, chopped
Coriander Leaves – handful, chopped
Garlic – 1 clove, peeled
Spring Onion – 1, chopped
Red Chilli – 1
Cumin Seeds – 1 tsp
Coriander Seeds – 1 tblsp
Method:
1. Heat a pan over medium flame.
2. Stir-fry the cumin seeds and coriander seeds for 30 seconds.
3. Remove and grind together with chillies, spring onions, garlic, coriander leaves, ginger, lemongrass, sugar, sesame oil and tamarind concentrate to a smooth paste.
4. Rub 1/4th of this paste on the duck and place skin-side on a baking tray.
5. Keep the tray in preheated oven at 200C/400F for 30 minutes.
6. Remove and turn. Roast for another 20 minutes.
7. Remove and keep aside.
8. Heat little oil in a pan.
9. Add the remaining curry paste and fry for a minute.
10. Add the coconut milk, chicken stock and fish sauce.
11. Bring to a boil.
12. Add the duck and simmer for about 5 minutes or until the sauce has slightly thickened and reduced.
13. Add lime juice and transfer to a serving bowl.
14. Garnish with red chillies and coriander leaves.
15. Serve hot with rice.
image via flickr: https://www.flickr.com/photos/hsw_photography/12422194673/