A delicious and rich dessert for any occasion. Sweet potatoes are rich in Vitamin C, iron,  dietary fiber, calcium and potassium.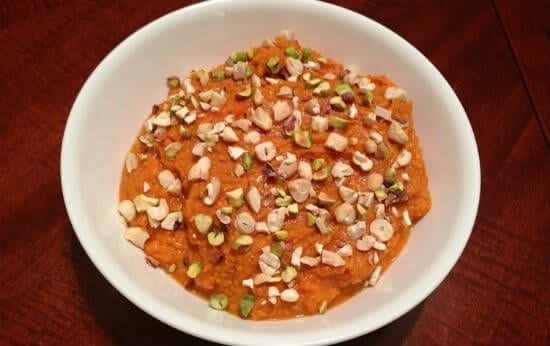 Ingredients:
Milk – 5 cups
Sweet Potatoes – 500 gms, peeled and grated
Powdered Cardamoms – 1/2 tsp
Sugar – 1/2 cup or more, as per taste
Powdered Almonds – 2 tblsp
Ghee – 1 tsp
Pistachios and Cashew nuts – handful, chopped
Saffron Strands – 1 tsp, mixed with 2 tblsp warm milk (optional)
Method:
1. Boil milk till it thickens and reduces by 1/3rd.
2. Add sweet potatoes, cardamoms, sugar and powdered almonds.
3. Cook over low heat till a creamy consistency is achieved.
4. Keep stirring to prevent it from sticking to the bottom.
5. In a separate pan, heat ghee and lightly fry the pistachios and cashew nuts.
6. Garnish the halwa with fried pistachios and cashewnuts.
7. Serve cold.
image via the big fat indian wedding