A delicious and healthy fish curry with turmeric. Ideal for lunch or dinner with hot, steaming rice.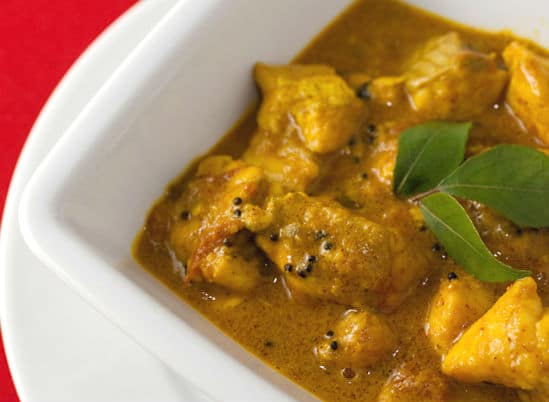 Ingredients:
White Fish Fillets – 200 gms, boneless, skinless, chopped
Mustard Seeds – 2 tsp
Curry Powder – 3/4 tsp
Red Chilli Powder – 1/3 tsp
Ginger – 1 1/2 tsp, finely grated
Garlic – 2 cloves, small, chopped
Fresh Turmeric – 3/4 tblsp, grated
Ghee – 3/4 tblsp
Coconut Milk – 250 ml
Palm Sugar – 3/4 tblsp
Coarse Sea Salt – as per taste
Lime Juice – 1/3 tblsp
Black Pepper Powder as per taste
Coriander Leaves as required (optional)
Curry Leaves – few
Method:
1. Grind the mustard seeds, curry powder, red chilli powder, ginger, garlic, salt and turmeric to a fine paste.
2. Heat ghee in a pan over medium flame.
3. Add the ground paste and stir well.
4. After 2 minutes, add the coconut milk and sugar.
5. Stir well and reduce flame to low.
6. Simmer for 3 to 4 minutes or until it has reduced slightly.
7. Add the chopped fish and cook for a further 5 to 8 minutes.
8. Continue to cook until the fish is cooked properly.
9. Add lime juice and black pepper powder.
10. Garnish with coriander leaves and curry leaves.
11. Serve with rice.