Serve as a side dish with rice or roti.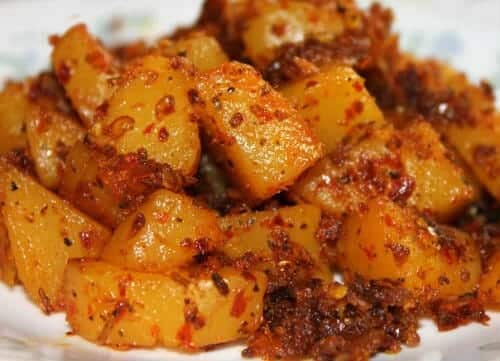 Ingredients:
Potatoes – 1 cup, boiled, peeled, chopped
Coriander Seeds – 1 tsp
Dry Red Chillies – 2, long
Salt as per taste
Oil – 2 to 3 tsp
Curry Leaves – few
Turmeric Powder – a pinch
Mustard Seeds – 1/8 tsp
Urad Dal – 1/8 tsp
Asafoetida Powder – a pinch
Coriander Leaves – few, chopped (optional)
Method:
1. Combine the coriander seeds, red chillies, turmeric powder and salt in a mixie.
2. Add a little water and grind to a smooth paste.
3. Add this to the potatoes and mix well.
4. Heat oil in a pan.
5. Fry the mustard seeds and urad dal for 30 seconds.
6. Add curry leaves and asafoetida powder.
7. Add the potato mixture and reduce flame to low.
8. Stir-fry for two to three minutes
9. Remove and transfer to a serving bowl.
10. Garnish with coriander leaves.
11. Serve as a side dish to rice, dosai or roti.