Chiroti is a popular dessert made during Diwali and other occasions. It is quite popular in Karnataka and Maharashtra.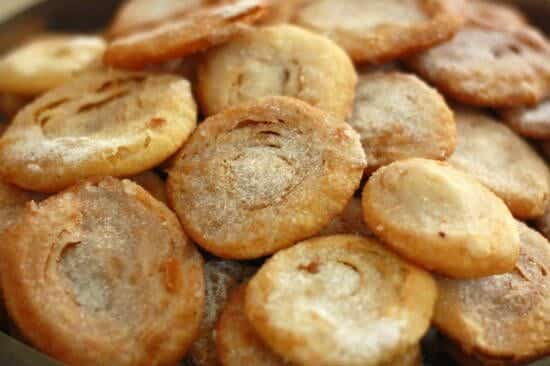 Ingredients:
Maida – 3 cups
Chiroti Rava (Sooji) – 1 cup (if available or see note at the end)
Sugar – 1 1/2 cups, coarsely powdered
Raw Rice Flour – 1 cup
Ghee – 1 cup
Salt – a large pinch
Oil (or Vanaspati) as required
Method:
1. Combine maida, rava, salt, 1/3 cup of ghee and little cold water in a bowl.
2. Mix well to a stiff dough.
3. Cover with a wet cloth and keep aside for 30 to 40 minutes.
4. Knead once again and make small balls of the dough.
5. Roll them out into small/medium chapatis.
6. To the remaining ghee, add rice flour and mix well.
7. Spread 1/2 tblsp of this ghee-rice flour mixture on the prepared chapatis.
8. Keep 4 to 5 of the chapatis one top of the other and roll them tightly, like a cylinder.
9. Cut them into 1 inch pieces.
10. Heat oil in a deep frying pan.
11. Deep fry the pieces until light golden brown.
12. Remove and drain excess oil.
13. Sprinkle sugar on top.
14. Serve.
Note: If chiroti rava is not available, you can use plain rava or add 1/2 to 1 cup of maida more.