A popular, delicious and easy to make sweet, this Kobbari (or Cobri) Mithai or Dry Coconut Burfi is a traditional dish in South India and made during festivals or special occasions.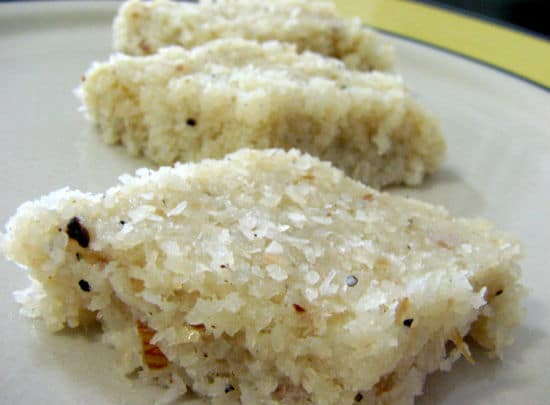 Ingredients:
Dry Coconut (Cobri/Kobbari) – 1 cup, shredded
Butter – 1/2 tsp, unsalted
Jaggery – 1 cup, grated
Water – 1/2 cup
Cardamom Powder – 1/2 tsp
White Poppy Seeds – 1 1/2 to 2 tblsp
Cashew Nuts – 1/4 cup, broken
Ghee – 3 tsp
Salt – a small pinch
Method:
1. Lightly toast the poppy seeds and cashew nut separately and keep aside.
2. Dissolve the jaggery in water and strain well, squeezing out all the jaggery water.
3. Transfer to a pan and place it over medium flame.
4. Simmer until it is reduced to a thin syrup, stirring all the time.
5. Add the grated coconut and pinch of salt.
6. Stir well and cook for a few minutes, ensuring it does not get burnt.
7. Add the cardamom powder, toasted cashew nuts and poppy seeds.
8. Stir again, scraping the sides, till the mixture is sticky.
9. Add ghee and mix well.
10. Pour this into a greased plate and allow it to cool.
11. Before it cools completely, cut into desired shapes and leave to cool.
12. Store it in an airtight container.