The tradition and specialty of a land is revealed by its cuisine as it reflects the culture of the land. The staple food, easily available ingredients and climate of the area are prime factors that influence the cuisine of a land.
Assam, the enchanting state of North East India, is the perfect tourist destination not only for its lush green natural beauties but also for its delicious cuisine. The cuisine is very different and tasty. Rice and fish are the staple food and are the main ingredients in Assamese cuisine. Less spicy and less oily are the specialty. The simple healthy food and the cooking process that is in sync with nature replicates the simple lifestyle of the inhabitants.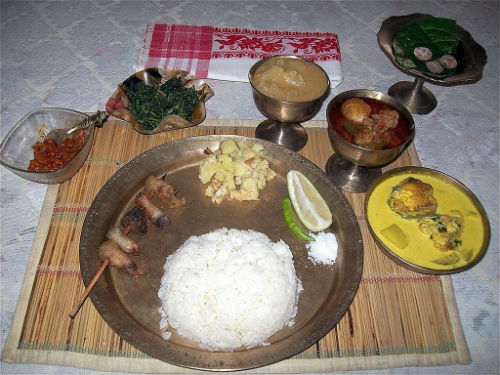 The traditional Assamese meal starts with serving Khar and ends with a sour dish, Tenga and is served on bell metal utensils. Generally, Paan concludes the meal. Even though, The food of Assam is less spicy, it is characterized by strong flavors owing to the use of exotic herbs, fruits, fish that lend a lip smacking taste to the dishes.
The cuisine is not much influenced by external factors and is therefore rich in traditional dishes. The main dishes are based on the traditional process like drying, fermentation etc. Rice is a part of all meals and is included in almost all preparations. Rice is eaten in different ways like boiled, roasted, steamed or wrapped in leaves. Chira with yogurt and jaggery is a traditional breakfast. Different variety of rice is used for preparing various dishes and most widely used varieties are Joha, Indica and Japonica.
Pitha is a unique rice preparation and is usually made on special occasions like Bihu. Bora Saul, Xutuli pitha, Sunga pitha, Kholasapori pitha are some of the delicious rice preparations. Lao-pani, rice beer, is an indigenously prepared drink with various nuances of taste and color. It has been prepared by keeping rice in water for a few days. Rice beer is not only very mouth-watering but also a wholesome food.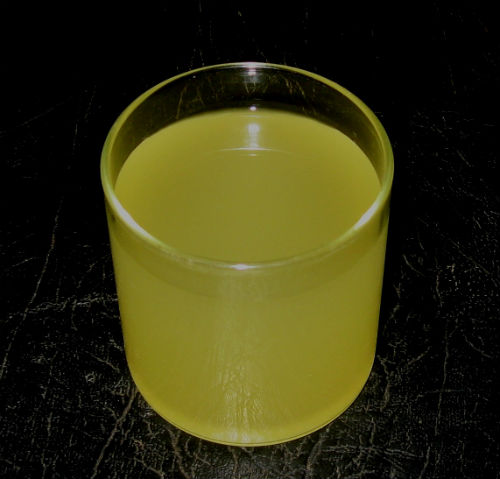 Assam is blessed with the Brahmaputra and its tributaries along with various fresh water resources that boast with several kinds of delicious fishes. Hence, unquestionably, fish is an indispensable part of the cuisine. Massor tenga is one of the most popular Assamese fish preparations. Assam Laksa Stock, Pedas Pomfret, Bamboo Fish are a few yummy fish dishes. Other popular non vegetarian dishes from the land of red rivers and blue hills are Spicy Shrimp, Pork with bamboo shoot, Pork with Laihak; Pigeon meat with the banana flowers.
Side dishes are generally made from steamed or roasted vegetables and are called as "Pitikas". Aloo pitika, eri polu are famous traditional dishes. For desert, wide range of "pithas" (cakes) are available.
Khar is a unique and traditional dish. Khar is prepared from Banana. The peel of banana is dried and burnt. Water is filtered through the ash that is obtained by burning the dried peel of the banana. The filtered water is called"Khar" and along with other main ingredients like papaya, rice, etc delicious khar dishes are prepared.
The sour fish dish "Tenga" is a signature class of preparation and souring ingredient could be with mangosteen, lemon and tomatoes. Mustard oil is used to fry the fish and in some tenga recipes, spinach or bottle gourd is added to improve taste. Poitabhat is a summer special in Assam. It is an easy preparation of soaking the cooked rice overnight in water and serving it in the morning with a garnishing of mustard oil, onion, coriander leaves and all. Pitika, mashed potatoes are also a favorite of the people of Assam.
Every place has its cuisine specialties and rare food varieties. Assam is evergreen with its rich food varieties that speak of the flavor of the Assamese soil.