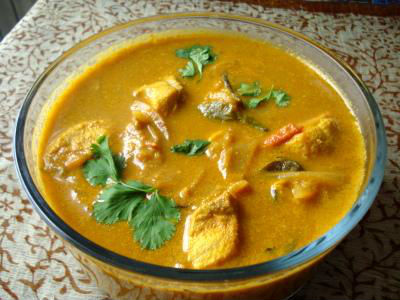 Ingredients:
Fish – 250 gms, cleaned, cut into small pieces, washed
Oil – 3/4 tblsp
Mustard Seeds – 1/2 tsp
Fenugreek Seeds – 1/4 tsp
Onion – 1/2 cup
Green Chillies – 2, slit
Ginger – 1 inch piece, chopped
Garlic – 5 to 6 cloves, chopped
Curry Leaves – handful
Gambooge Petals – 1, torn (also known as Malabar Tamarind or Kodumpuli)
Salt – 1/2 tsp
Thick Coconut Milk – 1/3 cup
For masala paste:
Black Pepper Powder – 1/4 tsp
Turmeric Powder – 1/4 tsp
Red Chilli Powder – 1/4 tsp
Coriander Powder – 1 tsp
Water – 2 tblsp
Method:
1. Mix the ingredients for masala paste together in a small bowl and keep aside.
2. Heat oil in a pan and fry the mustard seeds till it splutters.
3. Add fenugreek seeds, onions, green chillies, garlic, ginger and curry leaves.
4. Fry till onions turn translucent.
5. Add the masala paste and fry over low heat for 3 to 4 minutes.
6. Add the malabar tamarind with the liquid and bring to a boil.
7. Add fish and salt.
8. Mix gently and cook till fish is tender and gravy thickens.
9. Add the coconut milk and bring to a boil.
10. Remove and serve hot with rice or puttu.