Lassi, the luscious Indian beverage is prepared by commingling yogurt with salt, spices and water until it gets frothy. Constant innovation in this field has led to preparation of different Lassi varieties with delectable flavors.
This saline yogurt beverage has a thicker consistency compared to buttermilk and is prominently spiced with ground cumin powder.
The savory Lassi can be prepared by pouring 3 cups of plain yogurt and 1 cup cold water in a blender for a minute and adding in 1 seeded and finely chopped green chili, half tsp ground cumin and salt, pepper to taste. The blend is to be served over crushed ice. You can deck it with a smidgen of cumin powder and fine, chopped cilantro.
Mint Lassi
First, you need to take in a blender 2 cups of plain yogurt, five tbsp of finely chopped mint leaves, half tsp of ground, roasted cumin seeds and half tsp of rock salt. Blend the mixture for half a minute. Add about a cup of chilled water and 5 ice cubes to it. Now, blend the same till it gets frothy. Garnish it with a slight amount of ground roasted cumin powder and chopped mint.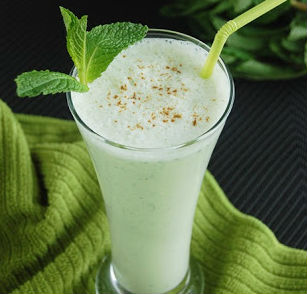 Sweet Lassi
Sweet Lassi has captured the imagination of parched Indian populace and has gained tremendous popularity of late. It is a perfect drink to beat the summer heat. The sweet fragrance of Rose water further enhances the appeal of sweet Lassi. Another distinctive quality of sweet Lassi is that it can be tailored to people's varying taste by flavoring with different fruits like pineapple, strawberry, lichee, bananas and mangoes.
Take a green cardamom pod and apply the spoon's back to gently crush it till it splits. After removing the seeds manually, discard the outer case. Put the seeds in a jug along with 1 half tsp of caster, demerara sugar, 100 ml of unsweetened natural yogurt, one tsp of rose water and 250ml of chilled water. Take a hand blender and have the mixture reduced to a smooth, consistent blend. Deck the same with a mint sprig.
Canned mangoes, mango juice and fresh mangoes; anything can be used to prepare this savory delicacy. Put one cup plain yogurt, half cup of mango pulp or pieces of mango, one cup crushed ice and three tbsp of sugar in a blender and blend them to a smooth paste. Keep adding water to prevent the consistency from becoming too thick. The beverage is to be kept refrigerated and served chilled. You can deck it with mint sprigs.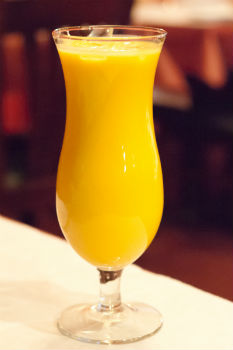 Take in a blender about 150g of crushed ice, 150ml chilled water, 150g of natural yogurt, peeled and chopped 2 nos. of ripe bananas, 2 tsp of honey and 1 pod crushed cardamom. Blend the ingredients till a fine paste is produced. Garnish the beverage with a banana slice and serve icy cool.
Strawberry Lassi
You will require one pound trimmed and halved fresh strawberry, half cup sugar, half tsp ground cardamom, salt to taste, few ice cubes and two cups plain yogurt. Now, puree strawberries with cardamom, sugar and salt in a blend to turn into a smooth paste. Add ice and yogurt and again puree till smooth consistency is achieved.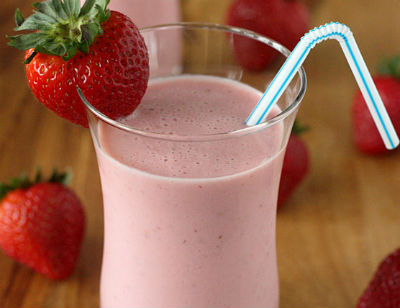 You can also prepare your own Lassi flavors, as this versatile drink offer enough scope for experimentation. The base ingredients consisting of yogurt, water, sugar and ice would remain same. Fruits contribute largely in bringing out the inherent charm and lusciousness of this traditional Indian drink. You can make a frozen dessert lassi ice cream or vanilla lassi by adding a swirl of chocolate and a hint of nutmeg. Just give your imagination a run and you will come up with lip smacking varieties.