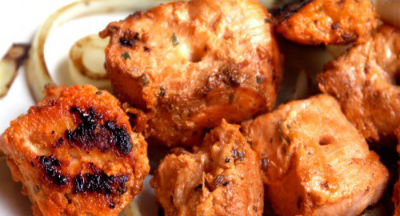 Ingredients:
Chicken – 250 gms, boneless, cubed
White Vinegar – 2 tblsp
White Pepper Powder – 1/4 tsp
Salt – 1/2 tsp
Ginger Garlic Paste – 3/4 tsp
Oil – 1 tblsp
For marinade:
Hung Curd – 1 cup
Cashewnut Paste – 1 1/2 tblsp
Egg White – 1/2
Oil – 1 1/2 tblsp
Cheese – 1/8 cup, grated
Coriander Leaves – 1 tblsp, chopped
Green Chillies – 1/2 tblsp, finely chopped
Cream – 2 tsp
Butter – 1/2 tsp
Black Salt – 1/2 tsp
White Pepper Powder – 1/8 tsp
Lemon Juice – 1 tblsp
Chaat Masala – 1/2 tsp
Mace Powder – 1/4 tsp
Cardamom Powder – 1/8 tsp
Method:
1. Combine the white vinegar, salt, pepper powder, ginger garlic paste and oil in a bowl.
2. Add the chicken pieces and marinate them for an hour.
3. In a plate, mix the cheese with yogurt and mix thoroughly till smooth.
4. Add the egg white and mix.
5. Add all the marinade ingredients and mix till smooth.
6. Now add the marinated chicken pieces and keep in the fridge for 30 to 60 minutes
7. Place the chicken pieces in a preheated oven at 180C and cook for 15 minutes till well-browned.
8. Remove and serve hot with mint chutney.