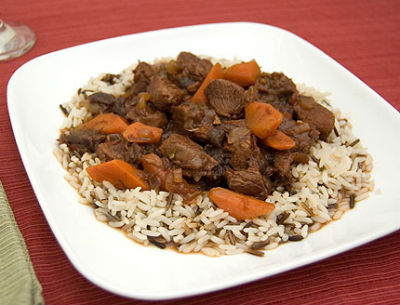 Ingredients:
Leg of Lamb – 500 gms, chopped
Dried Plums – 1/2 cup
Water – 1 1/2 litres
Garlic Water – 1/8 cup (or Garlic Paste diluted with water)
Red Chilli Paste – 1 tsp
Ghee – 1/2 cup
Cardamoms – 4
Cinnamon – 2 one inch sticks
Cloves – 2
Tamarind Extract – 1 cup
Turmeric Powder – 1 tsp
Salt as per taste
Method:
1. Boil the water in a vessel over moderate flame.
2. Add the lamb pieces and allow it to boil again.
3. Remove and drain the water.
4. Wash the lamb pieces in cold running water and transfer to a pan over moderate flame.
5. Add ghee, cardamoms, cloves, salt, garlic water, red chilli paste and cinnamon.
6. Cook till the ghee floats to the surface.
7. Add little water and cover the pan with a lid.
8. Cook till the lamb pieces are done.
9. Add tamarind extract, turmeric powder and plums.
10. Stir and mix well.
11. Simmer till the plums are soft.
12. Remove and serve hot.
Note: image is for illustration purposes only and not that of the actual recipe.