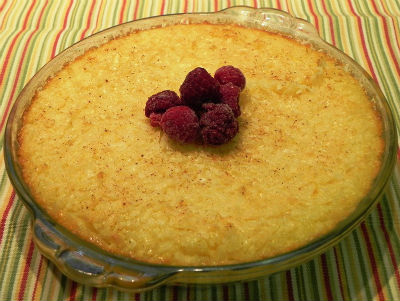 Ingredients:
Coconut Cream – 225 gms
Sugar – 1/3 cup, fine, granulated
Eggs – 3, large, lightly beaten
Butter – 1 1/2 tblsp
Method:
1. Heat a large pan over medium flame.
2. Add the coconut cream and sugar. Mix well till sugar is dissolved completely.
3. Reduce heat to low and add the eggs.
4. Cook till the mixture is thick for about 5 to 9 minutes.
5. Remove the pan from heat.
6. Add butter and stir well till it is blended well.
7. Pour the custard into small-medium custard cups and place them in a baking pan.
8. Pour boiling water into the pan until halfway up the sides of the cups.
9. Place the pan in a preheated 325F oven and bake for 25 to 35 minutes or until set.
10. Remove and allow it to cool.
11. Serve warm.
Tip: If required you can also garnish it with chopped fresh fruits of choice.
Note: image is for illustration purposes only and not that of the actual recipe.