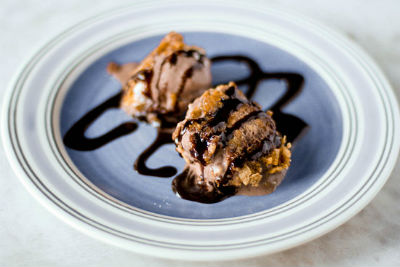 Ingredients:
Butter – 1/2 cup
Brown Sugar – 1/2 cup
Cornflakes – 2 cups, crumbled
Coconut – 1/2 cup, shredded
Almonds – 1/2 cup, chopped
Cinnamon – 4 tblsp
Vanilla Ice Cream – 900 gms, slightly soft
Chocolate Sauce (optional)
Method:
1. In a bowl, combine the butter, brown sugar, cornflakes, coconut, almonds and cinnamon.
2. Stir well.
3. Spread half of the mixture in the bottom of a square baking pan.
4. Spread the vanilla ice cream over this carefully.
5. Now spread the remaining crumbs over the ice cream.
6. Place the pan in a freezer till firm.
7. Drizzle some chocolate sauce on top.
8. Cut into squares or rectangles or scoop into a bowl and serve.