Who doesn't love Ice Creams? Especiall homemade Ice Cream. Basil leaves has a number of health benefits and is also a versatile herb. This frozen dessert is perfect for any occasion.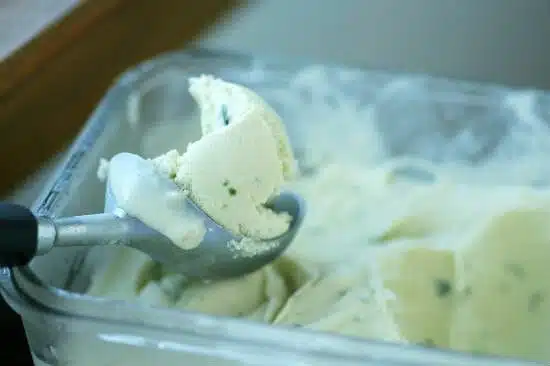 Ingredients:
Full Cream Milk – 1 cup
Sugar – 1/2 cup
Basil Leaves – 1/4 cup, fresh
Dried Basil Leaves – 1 tsp
Egg Yolks – 2 large or 4 medium
Whipping Cream – 1 cup
Vanilla Essence – 1/2 tsp
Salt – a small pinch
Method:
1. Heat a heavy pan over medium flame.
2. Add the milk, 1/4 cup of sugar, basil leaves, dried basil and salt.
3. Stir well and cook for 4 to 5 minutes.
4. Remove from flame and keep aside for 45 to 60 minutes.
5. Strain the mixture and transfer to another pan over medium flame.
6. Simmer for another 4 to 5 minutes.
7. Whisk the egg yolks in a bowl.
8. Add the remaining sugar to the bowl.
9. Whisk again until light and fluffy.
10. Gradually add the milk and whisk gently.
11. Transfer this to the pan and simmer over medium flame, stirring often, for 3 to 5 minutes or until thick enough to coat the back of a spoon.
12. Remove the pan and place it in a bowl of cold water to cool.
13. Stir from time to time until cool.
14. Mix the whipping cream and vanilla in a large bowl.
15. Add the milk mixture and stir gently.
16. Transfer to a freezer safe container with a tight fitting lid.
17. Keep it in the fridge for 4 hours.
18. Remove and stir well.
19. Return to the freezer and freeze for 4 hours or until well set.
20. Scoop out small portions and serve.
Note: If you have an ice cream maker, then follow until step #18 and freeze it in the ice cream machine as per manufacturer instructions.
Tip: If desired, you can add broken chocolate buttons at step #16.