Cassata Ice Cream or Cassata Cake Ice Cream is a popular layered dessert–ice cream variety in India consisting of a cake base and 1 to 3 layers of Ice Cream topped with mixed nuts and tutti frutti.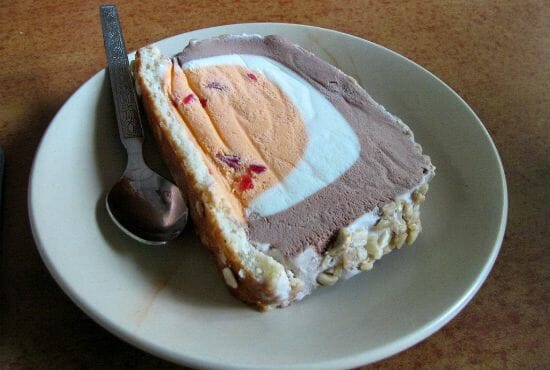 Ingredients:
Strawberry Ice Cream – as required
Mixed Fruits Jam – as required
Tutti Frutti – as required
Mixed Nuts – as required (optional)
Butter Paper – as required
To make the cake:
Maida – 100 gms
Eggs – 2
Sugar – 100 gms
Ghee – 1 tsp
Strawberry Essence – 1 tsp (or use any other essence as well)
Method:
1. Separate the yolks and the white from the eggs.
2. Add sugar to the egg yolks and beat well.
3. Add ghee and mix again.
4. Add the egg whites to the maida.
5. Add the essence and mix well.
6. Add the egg yolk mixture and beat well.
7. Pour into a greased cake tin and place it into a preheated oven at 160C for 5 minutes or until the top is golden brown.
8. Remove and cool.
9. Spread the butter paper on a flat surface and place the cake on top.
10. Mix 1 tsp jam with a little water and sprinkle on the cake.
11. Spread the strawberry ice cream on top to form a 1/2 inch layer.
12. Sprinkle tutti frutti and mixed nuts on top.
13. Remove the butter paper and roll the cake.
14. Cover tightly with the butter paper and keep it in the freezer for 1 hour.
15. Cut into slices and serve at once.
Tip: If desired, you can also add 2 to 3 layers of ice cream of different flavours.