A delicious and perfect dessert for any meal, this homemade cinnamon ice cream is easy to make and is bound to be a hit with all.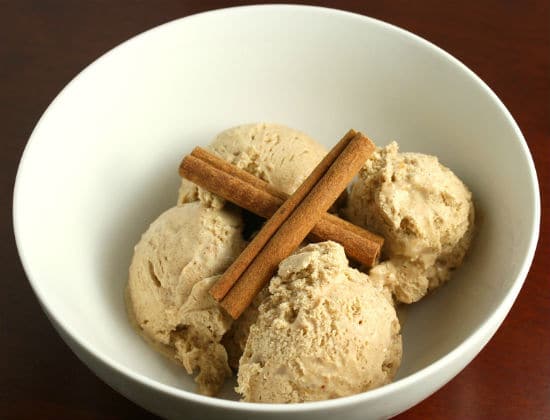 Ingredients:
Fresh Cinnamon Powder – 3/4 tblsp
Milk – 2/3 cup
Thick Cream – 2/3 cup
Egg Yolks – 2 to 3
Sugar – 1/4 cup
Method:
1. Heat milk in a pan over medium flame.
2. Add the cinnamon powder.
3. After a minute or two (or when the milk is warm), remove the pan from the flame.
4. Add the cream and keep aside for 10 to 15 minutes.
5. Whisk the egg yolks and sugar until fluffy and pale.
6. Gradually add them to the milk mixture and stir gently.
7. Place the pan over low flame and stir until it starts to coat the back of a spoon.
8. Pour it into a freezer safe bowl and keep it in the freezer.
9. Whisk it vigously every 1 hour for 2 to 3 hours or until frozen.
Tip: You can also add chopped walnuts or raisins if desired.