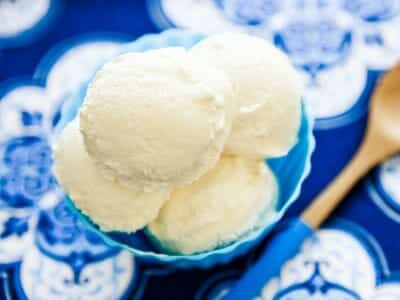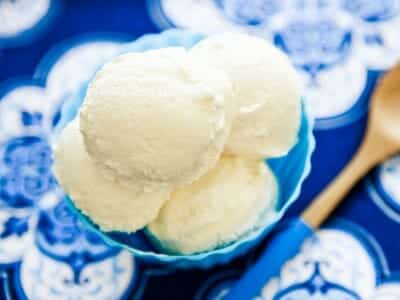 Ingredients:
Milk – 1 1/2 litres
Sugar – 250 gms
Fresh Cream – 250 ml
Vanilla Essence – 1 tsp
Gelatin – 1 tsp
Corn Flour – 1 1/2 tblsp
Method:
1. Add sugar to milk and bring to a boil.
2. Remove and cool.
3. Add vanilla essence and keep aside.
4. Add a little water to the gelatin and mix well until dissolved.
5. Add a little milk to the corn flour and mix well.
6. Heat the milk over low flame.
7. Add the gelatin mixture and simmer for 5 minutes.
8. Add the corn flour mixture and stir continuously for a minute or two.
9. Remove and cool.
10. Beat/Whisk the milk until frothy.
11. Pour into pan and keep it in the freezer for 1 hour.
12. Transfer to a large bowl and add the cream.
13. Beat gently and transfer to a large ice cream bowl.
14. Keep it in the freezer for 1 1/2 hours or until set.
15. Serve as desired.