Indulge in the nutty goodness of homemade Pistachio Ice Cream. Creamy, dreamy, and easy to make – a delightful treat for all seasons.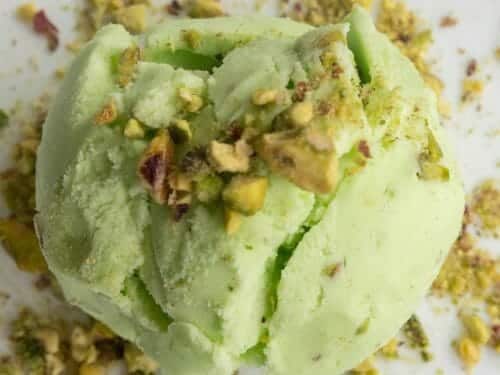 Pistachio Ice Cream is a delightful frozen treat that captures pistachios' rich, nutty essence in every spoonful. Whether it's a scorching summer day or a cosy winter night, this homemade ice cream is the perfect dessert for any occasion.
Imagine the creamy goodness of whipped cream blended with the earthy flavour of ground pistachios. This recipe brings them together to create a dessert that's a labour of love. It's a fantastic way to enjoy the flavour of pistachios in a frozen form.
The process starts with soaking pistachios to enhance their flavour and grinding them into a fine paste. Whip eggs, sugar, vanilla essence, and honey until smooth. Then, sprinkle the ground pistachios into the mix and a green food colour (optional) for that classic pistachio hue.
Once combined, the mixture is placed in a freezer-safe container and left to freeze. Throughout the freezing process, it's stirred vigorously to ensure a creamy texture. After a few hours of patience, you'll be rewarded with homemade Pistachio Ice Cream, ready to be garnished with more pistachios for that extra crunch and flavour.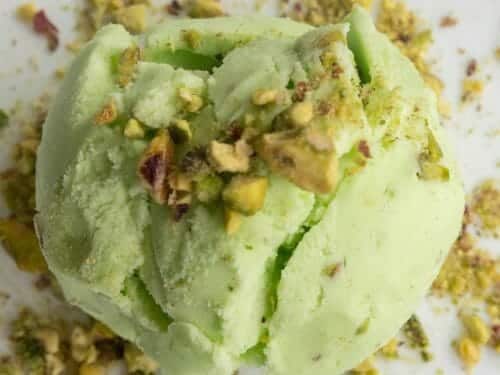 Pistachio Ice Cream
Indulge in the nutty goodness of homemade Pistachio Ice Cream. Creamy, dreamy, and easy to make – a delightful treat for all seasons.
Ingredients
200

g

Pistachios

2

pcs

Eggs

400

ml

Whipped Cream

200

ml

Full Cream Milk

100

g

Sugar

2

tsp

Vanilla Essence

3

tbsp

Honey

1/2

cup

Corn Syrup

Green Food Color - Few drops (optional)
Instructions
Soak pistachios in water for 6 to 8 hours or overnight, then drain and grind to a fine paste.

Boil milk in a pan, remove it, and let it cool.

Whisk eggs in a bowl, gradually adding sugar until well mixed.

Add whipped cream, milk, vanilla essence, honey, corn syrup, and green food colour (if using). Whisk until evenly combined.

Transfer the mixture to a freezer-safe container and freeze for 1 hour.

Remove and stir vigorously.

Repeat the freezing and stirring process 2-3 times until the ice cream is firmly set.

Just before serving, garnish with extra pistachios.
Serving Size: Approximately 4 servings
Frequently Asked Questions:
Can I use roasted pistachios for this ice cream?
Yes, you can use roasted pistachios for a slightly different flavour profile. Roasted pistachios will add a toasted, nuttier taste to the ice cream.
Is there a substitute for corn syrup in this recipe?
Certainly! You can replace corn syrup with light corn syrup, maple syrup, or agave nectar. Each will bring its unique sweetness and flavour.
Can I make this ice cream without eggs?
For an eggless version, you can substitute eggs with an equal amount of condensed milk or a dairy-free alternative like coconut milk. It will yield a slightly different texture but still delicious.
What are some serving suggestions for Pistachio Ice Cream?
Pistachio Ice Cream pairs wonderfully with a drizzle of chocolate sauce, chopped nuts, or even a sprinkle of sea salt for a sweet-savory contrast.
Can I store leftovers in the freezer?
Absolutely! Store any leftover Pistachio Ice Cream in an airtight container in the freezer. Just be sure to let it sit at room temperature for a few minutes before scooping for a creamy consistency.
If you're a fan of pistachios and have been craving a cool and creamy treat, look no further than this delightful homemade pistachio ice cream recipe. With simple and easy-to-find pistachio ice cream ingredients, you can whip up a batch of this delectable dessert in no time.
To start, gather the essentials for this pistachio ice cream recipe. You'll need fresh pistachios, heavy cream, milk, sugar, vanilla extract, and a pinch of salt. These are all the key components to achieve that rich and nutty flavor that makes pistachio ice cream irresistible.
Now, let's get into the step-by-step process of making this easy pistachio ice cream recipe. Begin by shelling the pistachios and grinding them into a fine powder. This will enhance the texture and intensify the pistachio flavor in the ice cream.
In a saucepan, combine the heavy cream, milk, and sugar, and bring the mixture to a gentle simmer over medium heat, stirring occasionally. Once the sugar has dissolved completely, remove the pan from the heat and let the mixture cool slightly.
Next, add the ground pistachios and vanilla extract to the saucepan, stirring well to ensure everything is thoroughly incorporated. The addition of the pistachio powder will infuse the base with a vibrant green color and a delightful nuttiness.
Once the mixture has cooled, transfer it to an ice cream maker and churn according to the manufacturer's instructions. This will help achieve that creamy and luscious texture we all love in pistachio ice cream.
After the ice cream has reached a soft-serve consistency, transfer it to a lidded container and freeze it for a few hours or until firm. This allows the flavors to meld together and develop, resulting in a perfectly balanced pistachio sorbet recipe.
Now that you know how to make pistachio ice cream in English, it's time to indulge in the creamy goodness of this homemade treat. Serve it in a cone or a bowl, and savor the unmistakable taste of pistachios in every spoonful. Whether you're enjoying it on a hot summer day or as a delectable dessert after a meal, this pistachio ice cream recipe will satisfy your sweet tooth.