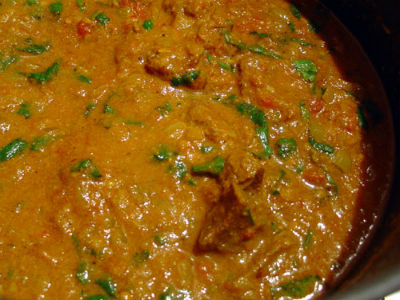 Ingredients:
Lamb – 250 gms, cubed, boneless
Ghee – 1/4 cup
Ginger Garlic Paste – 2 tsp
Salt as per taste
For the Masala:
Onion – 1/3 cup, sliced
Red Chilli Powder – 1/2 tsp
Garam Masala Powder – 1 tsp
Brown Sugar – 1/2 tblsp, dissolved in 1 tblsp water
Green Chillies – 3, finely chopped
Almond Paste – 1 tblsp
Hung Curd – 1 1/2 cups
Coriander Leaves – 1/2 tblsp
Saffron Strands – 1/4 tsp, dissolved in 2 tblsp hot water
Method:
1. Heat half the ghee in a pan over moderate flame.
2. Add the ginger garlic paste and cook for 1 to 2 minutes.
3. Add the lamb pieces and salt to taste.
4. Stir well and add enough water. Simmer for a few minutes and keep aside.
5. Heat the remaining ghee in a different frying pan.
6. Saute the onions till golden.
7. Add red chilli powder, garam masala powder, brown sugar, green chillies and almond paste.
8. Add 1/4 cup of water and cook till water dries up completely.
9. Add the lamb pieces and stir well.
10. Now add the yogurt and coriander leaves.
11. Mix well and add saffron.
12. Simmer for 3 to 4 minutes.
13. Serve hot.
Note: image is for illustration purposes only and not that of the actual recipe.