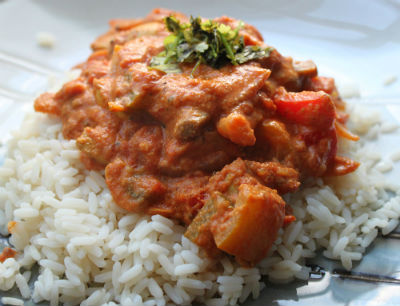 Ingredients:
Chicken – 750 gms, skinned, cut into small-medium pieces
Ghee – 1/4 cup
Ginger Garlic Paste – 2 1/2 tsp
Lemon Juice – 1/4 cup
Salt as per taste
For the masala paste:
Dry Red Chillies – 5, soaked in hot water
Coriander Powder – 1/2 tblsp
Cumin Seeds – 3/4 tsp
Fenugreek Seeds – 1/4 tsp
Black Peppercorns – 5
Khus Khus – 1 1/2 tsp
Coconut – 1/4 cup, finely grated
Onions – 1/3 cup, sliced
Turmeric Powder – 1/2 tsp
Green Cardamoms – 1/4 tsp
Clove Powder – 1/4 tsp
Cinnamon Powder – 1/4 tsp
Method:
1. Dry roast each masala paste ingredient and grind to a smooth paste, adding little water.
2. Heat ghee in a pan over moderate flame.
3. Add the masala paste, ginger garlic paste and fry for a couple of minutes.
4. Add the chicken pieces.
5. Sprinkle salt and mix well.
6. Cook till the mixture is dry.
7. Pour some water and cover the pan with a lid.
8. Cook till chicken pieces become tender.
9. Add the lemon juice and mix well.
10. Once the gravy is thick, remove the pan from heat.
11. Serve hot with rice.
Note: image is for illustration purposes only and not that of the actual recipe.