Pad Thai is a classic and popular Thai stir-fried noodle dish. This prawn variation is really simple and easy to make. Ideal for lunch or dinner.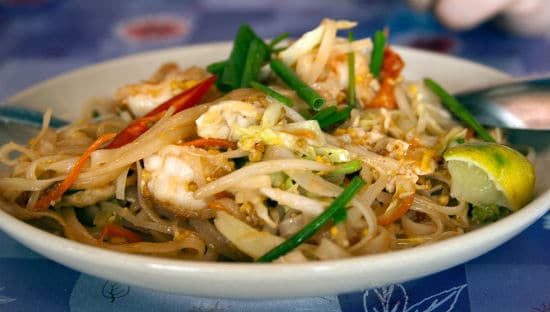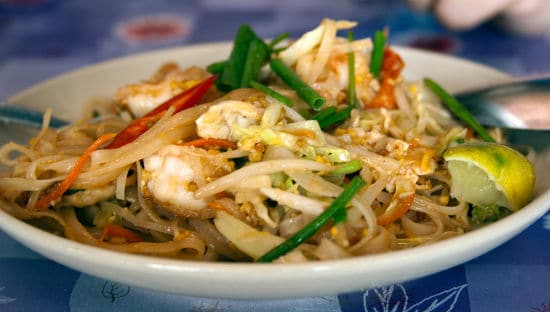 Ingredients:
Rice Noodles – 125 gms
Prawns – 10 to 12, peeled, deveined
Tofu (or Paneer) – 60 gms, chopped
Egg – 1, lightly beaten
Spring Onions – 2, chopped
Beansprouts – 1/4 cup
Coriander Leaves – few
Crushed Peanuts – few, to serve
Lime Wedges to serve
Red Chilli Flakes as per taste
Coriander Leaves – few, to serve
Oil – 2 tblsp
Garlic – 1 clove, sliced
For the Sauce:
Brown Sugar – 3 tsp
Thai Fish Sauce – 3 tsp
Lime Juice – 3 tsp
Tamarind Extract – 3 tsp
Light Soy Sauce – 1 tsp
Method:
1. Heat a pan of water over medium flame.
2. Soak the noodles for 15 to 20 minutes or until soft.
3. Drain well and keep aside.
4. Combine and whisk all the sauce ingredients in a bowl.
5. Heat 3 tsp of oil in a frying pan over medium flame.
6. Saute the garlic for 15 to 20 seconds and remove.
7. Add the prawns and stir-fry for a minute or until cooked.
8. Remove and keep aside.
9. Add the tofu (or paneer) to the pan and stir-fry for 2 minutes or until crispy.
10. Add the beaten egg and cook until it starts to set. Scramble the eggs using a spatula.
11. Remove and keep aside.
12. Add the remaining oil to the pan.
13. Stir-fry the spring onions for a minute.
14. Add the noodles, prawns, garlic, tofu mixture and the sauce.
15. Stir well until evenly combined.
16. Sprinkle the beansprouts and coriander leaves on top.
17. Garnish with red chilli flakes and peanuts.
18. Serve with lime wedges.