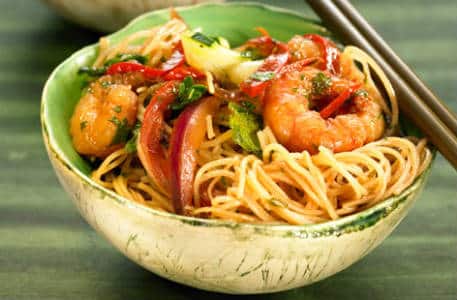 Ingredients:
Rice Noodles – 200 gms, dried
King Prawns – 300 gms, cooked
Peanuts – 50 gms, chopped
Carrots – 4, grated
Spring Onions – 10 to 12, finely chopped
Red Chilli – 1, deseeded, finely chopped
Juice of 2 Limes
Soy Sauce – 1/4 cup
Thai Fish Sauce – 1/4 cup
Sesame Oil – 1/4 cup
Mint Leaves – handful, chopped
Lime Wedges to serve
Method:
1. Heat a pan of water over medium flame.
2. Bring to a boil.
3. Add the noodles and keep aside for 10 minutes.
4. Drain and rinse under cold water.
5. Transfer to a large mixing bowl.
6. Mix the soy sauce, fish sauce, oil, lime juice and red chilli.
7. Pour over the noodles and stir to mix well.
8. Add the carrots, mint leaves, spring onions and prawns.
9. Toss well until evenly mixed.
10. Garnish with the peanuts.
11. Serve with lime wedges.
Note: image is for illustration purposes only and not that of the actual recipe.