A simple and quick to make salad with Chicken, Rice Noodles and Vegetables. Great for a quick late night meal or a brunch.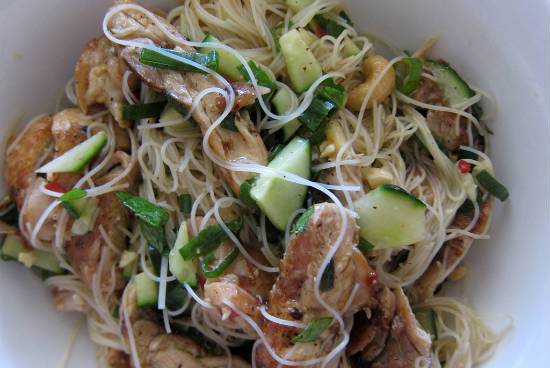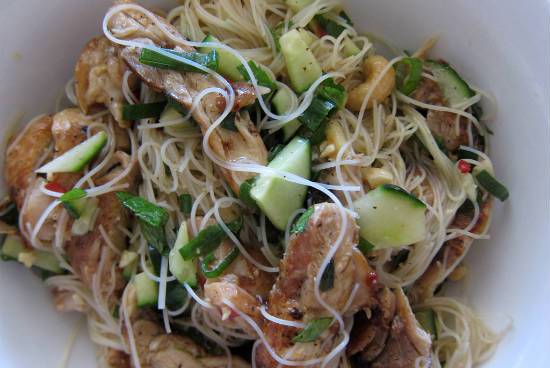 Ingredients:
Chicken Thighs – 2, boneless, skinless
Rice Noodles – 100 gms, cooked as per packet instructions
Carrot – 1, sliced
Cucumber – 1, sliced or chopped
Mix of Cabbage and Lettuce – big handful, chopped (optional)
Cashew Nuts – few, chopped (optional)
Oil as required
For the dressing:
Garlic – 1 clove, chopped
Red Chilli – 1, small, chopped
Fish Sauce – 3 tsp
Caster Sugar – 2 tsp
Juice of 1 Lime
Method:
1. Mix the garlic, chilli, fish sauce and 1 tsp sugar in a bowl.
2. Add the chicken thighs to a bowl and pour half of the dressing over.
3. Mix well and reserve the remaining dressing.
4. Add 3 tsp lime juice and remaining sugar to the dressing, mix well and keep aside.
5. Heat little oil in a pan.
6. Add the chicken and stir-fry for 2 to 3 minutes on each side or until cooked through.
7. Combine the noodles, vegetables and reserved dressing in a bowl.
8. Remove the chicken and slice or chop into small pieces.
9. Add this to the noodles and toss well to mix.
10. Serve at once.