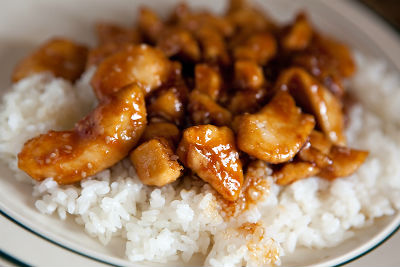 Ingredients:
Chicken Breasts – 2, boneless, skinless
Soy Sauce – 1/4 cup
Apple Cider Vinegar – 1/2 tblsp
Pineapple Juice – 2 to 3 tsp
Brown Sugar – 3 tsp
Ginger – 1/2 tsp, grated
Garlic – 1/2 tsp, minced
Method:
1. Mix the soy sauce, brown sugar, vinegar, pineapple juice, ginger and garlic in a bowl.
2. Place the chicken in a resealable bag and pour the sauce over.
3. Seal the bag and keep it in a fridge for 5 to 6 hours.
4. From time to time, shake the bag so that the chicken is evenly coated and marinated well.
5. Remove the chicken from the bag and discard the marinade.
6. Transfer to a greased baking tray.
7. Place the tray in a preheated broiler and cook for 4 to 5 minutes.
8. Turn over and broil for another 4 minutes.
9. Alternatively, heat a large nonstick pan over medium flame.
10. Add a little oil and saute the chicken for until tender.
9. Serve with rice.
image credit: browniebites.net