A delicious creamy pasta with chicken, spinach and cheese. Makes a perfect lunch or dinner dish, esp on a slow, relaxing weekend.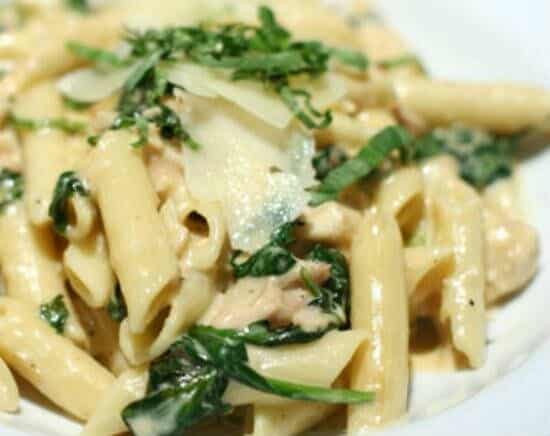 Ingredients:
Penne Pasta – 175 gms, cooked, drained
Chicken Stock – 200 ml
Chicken Breasts – 2, medium, boneless, skinless, cut into 1 inch pieces
Garlic Paste – 1/4 tsp
Cream Cheese – 100 gms, chopped
Spinach – 125 gms, chopped, rinsed, boiled, drained well
Cherry Tomatoes – 6 to 8, halved
Parmesan Cheese – as required, grated
Method:
1. Heat a large pan over medium flame.
2. Pour 100 ml of the chicken stock and bring to a boil.
3. Add the chicken pieces and cook for 10 minutes.
4. Add garlic paste, cream cheese and stir until the cheese has fully melted.
5. Pour the remaining stock, spinach and tomatoes.
6. Cook for another 10 minutes, stirring all the time.
7. When the tomatoes are soft and the sauce has thickened slightly, pour this over the cooked pasta.
8. Mix well and sprinkle grated cheese on top.
9. Serve at once.