This is a Classic Thai delicacy is really simple to make and tastes delicious. With minimal ingredients – chicken and one or two vegetables, this dish is ideal for a weeknight dinner or weekend lunch.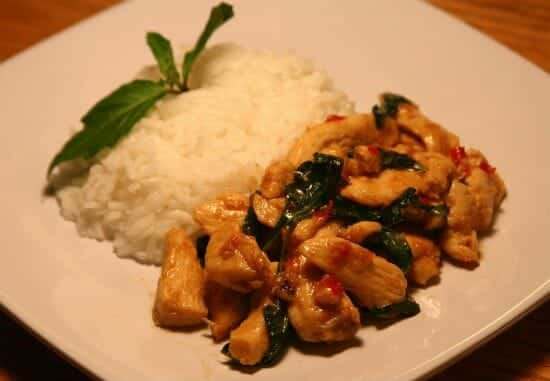 Ingredients:
Chicken Breasts – 2, boneless, skinless, cut into 1/4 inch thick strips
Capsicum – 1 cup, sliced
Onions – 3/4 cup, sliced
Basil Leaves – 1/3 cup, chopped
Lime Juice – 2 tsp
Sugar – 2 tsp
Water – 2 tsp
Thai Fish Sauce – 2 tsp
Peanut Oil – 2 tsp
Garlic – 2 cloves, minced
Red Chilli – 1, small, finely sliced
Barbecue Sauce – 1 1/2 tblsp
Method:
1. Mix the barbecue sauce, sugar, water and Thai fish sauce in a bowl.
2. Mix until the sugar has fully dissolved.
3. Heat oil in a pan over medium flame.
4. Stir-fry the red chilli and garlic for 30 seconds.
5. Add the chicken pieces and cook for 3 minutes or until the chicken is cooked.
6. Add the onions and capsicum.
7. Stir-fry for a minute.
8. Add the barbecue sauce mixture and cook for 30 seconds.
9. Add the basil leaves and lime juice.
10. Stir well and remove.
11. Serve at once with steamed rice.