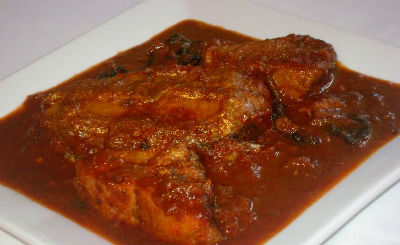 Ingredients
Fish Pieces – 1/2 kg
Chilli Powder – 2 tblsp
Turmeric Powder – 1/4 tsp
Fenugreek Seeds – 1/8 tsp
Garlic – 12 cloves
Ginger – 2 tsp, sliced
Refined Vegetable Oil – 1/4 cup
Mustard Seeds – 1 tsp
Button Onions – 2 tblsp, sliced
Curry Leaves – few
Cocum – 3 pieces, washed and soaked in water
Water – 2 cups
Salt to taste

Method:
1. Clean the fish pieces well in salted water.
2. Grind chilli powder, turmeric powder and fenugreek seeds to a paste with 6 garlic cloves and 1 tsp ginger and keep aside.
3. Heat oil in a pan.
4. Splutter the mustard seeds.
5. Add onion, remaining garlic, ginger and curry leaves.
6. Keep stirring and when it turns slightly brown drain from oil and keep aside.
7. In the same oil, stir in the ground masala and fry until the aroma arises.
8. Add the soaked cocum and 2 cups water.
9. Add salt to taste.
10. Transfer this into an earthenware vessel and simmer.
11. Gently ladle in the fish pieces and the sauted ingredients.
12. Cook half covered, till it boils.
13. Remove the lid and allow to simer on low heat till the gravy thickens and the fish is cooked.