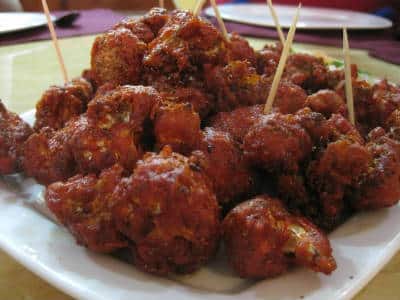 Ingredients:
Cauliflowers – 5, small whole ones (1 kg)
Salt to taste
Turmeric Powder – 2 tsp
Gram Flour (besan) / maize flour (maida) – 1 cup
Carom seeds – 1 tsp
Lemon Juice – 2/3 tsp
Yoghurt – 1/2 cup
Ginger Paste – 2 tsp
Garlic Paste – 2 tsp
Garam Masala – 1 2/3 tsp
Red/ Yellow Chilli Powder – 2 tsp
Oil – 2 1/2 cups
Green Coriander – 4 tsp, finely chopped
Green Chillies – 4 tsp, finely chopped
Method:
1. Boil sufficient water to immerse the cauliflowers.
2. Add salt and turmeric powder.
3. Gradually add the cauliflowers to this brine solution.
4. Cook for 8 to 10 minutes over medium heat until the cauliflowers are half cooked.
5. Drain and keep aside.
6. In a bowl, make a batter with the gram flour/ maize flour, carom seeds, lemon juice, yoghurt, ginger and garlic pastes, garam masala, chilli powder and salt.
7. The batter should be thick and smooth.
8. Heat the oil in a kadai, dip each cauliflower into the batter, coat evenly and deep fry over medium heat till golden brown.
9. Cut each cauliflower into four parts and place on a platter, garnished with green coriander and green chillies.
10. Serve with fresh cucumbers and sliced tomatoes.