Pineapple Seafood Soup (or Canh Chua Tom as it is locally known) is a popular Vietnamese sweet and sour soup variety made with pineapples and mixed seafood.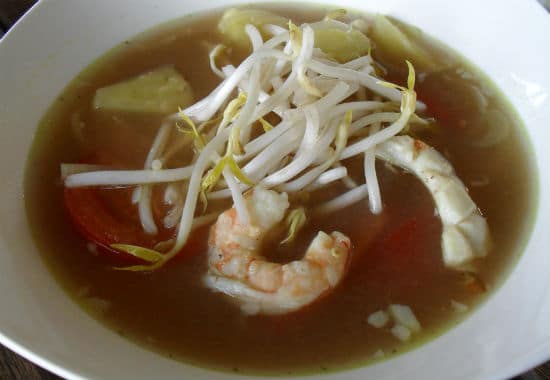 Ingredients:
Mixed Seafood – 250 gms, cleaned, shelled and chopped (prawns, squid, shrimps and fish)
Oil – 1 tsp
Onion – 2 tblsp, sliced
Lemongrass Stalks – 1 or 2 stalks, thick bottom part only, inner part sliced and outer layers discarded
Chicken Stock – 750 ml
Tomato – 1, chopped
Pineapple – 1/2 cup, chopped
Fish Sauce – 1 1/2 tsp + 1 1/2 tsp
Tamarind Extract – 3 tsp
Sugar – 1 1/2 tsp
Salt – 1/4 tsp or as per taste
Cucumber – 3 to 4 tblsp, chopped
Coriander Leaves – handful, chopped
Garlic – 1 clove, minced
Red Chilli – 1, minced, seeds removed
Black Pepper Powder – a pinch
Beansprouts – handful (optional)
Method:
1. Mix the garlic, red chillies, 1 1/2 tsp fish sauce and pepper powder in a bowl.
2. Add the seafood and mix until well coated.
3. Cover and keep aside for 10 to 20 minutes.
4. Heat oil in a pan over medium flame.
5. Cook the onions and lemongrass for a minute.
6. Add the chicken stock, tomatoes, pineapples and mix well.
7. Add fish sauce, tamarind extract, salt and sugar.
8. Stir well and bring to a boil.
9. Simmer for a minute and add the marinated seafood.
10. Simmer for another minute or two or until cooked. Add the beansprouts if using.
11. Remove from flame.
12. Garnish with coriander leaves and transfer to serving bowls.
13. Serve warm.
Tip: Add more fish sauce and tamarind extract if required at step #10.