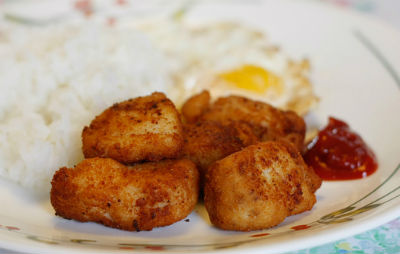 Ingredients:
Mackerel – 300 gms, cubed
Ginger – 1/2 inch piece, sliced
Garlic – 1 clove, minced
Salt – 1/2 tsp
Lime Juice – 1/2 tblsp
Turmeric Powder – 1 tsp
Red Chilli Powder – 1/2 tsp
Lime – 1/2, cut into wedges
Oil – 1 tblsp
Banana Leaf
Method:
1. Combine the ginger, garlic and salt.
2. Add a little lime juice and grind to a paste.
3. Transfer to a bowl and mix lime juice, turmeric powder and red chilli powder.
4. Coat the fish cubes evenly and keep it in the fridge for 3 hours.
5. Remove and brush the fish with oil.
6. Place them on a banana leaf and loosely wrap them.
7. Cook on a grill, turning, until golden brown and fish is cooked.
8. Serve hot with lime wedges.

Tip: To check if the fish is cooked, insert a sharp knife to make sure the fish is white in the center.
Note: image is for illustration purposes only and not that of the actual recipe.