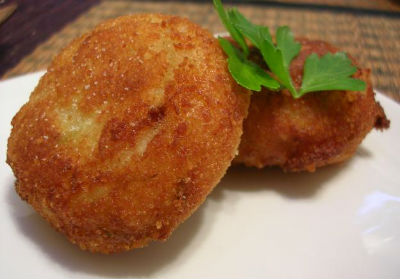 Ingredients:
Fish – 250 gms, boneless, chopped
Curry Powder – 1 tsp
Onion – 1, chopped
Lemon Juice – 1 tblsp
Eggs – 2
Coriander Leaves – 1 tblsp, chopped
Breadcrumbs
Oil for deep frying
For White Sauce:
Butter – 100 gms
Plain Flour – 3/4 cup
Milk – 3 cups
Salt
Pepper
Method:
1. Melt the butter in a pan over low heat.
2. Remove the pan from heat and add the flour.
3. Stir till smooth.
4. Return to the heat and cook for a few minutes.
5. Remove from heat and gradually pour in the milk.
6. Return the pan to the heat and stir till milk boils.
7. Reduce heat and simmer for 3 minutes.
8. Add salt and pepper.
9. Keep aside.
10. Mix the curry powder, lemon juice, onion and coriander leaves with the chopped fish pieces.
11. Mix this with the white sauce.
12. Spread the mixture on a shallow tray and refrigerate till firm.
13. Take a tablespoonful of this mixture and shape into croquettes.
14. Dip the croquettes in the beaten eggs and then into the breadcrumbs.
15. Keep it in the fridge for 60 minutes.
16. Heat oil in a pan and deep fry the croquettes till golden brown for a few minutes.
17. Remove and drain excess oil.
18. Serve hot.