Mint Potato Rice (or Aloo Pudina Rice) is a simple to make and delicious lunch box dish. No need for any side dish. If preferred, serve with raita.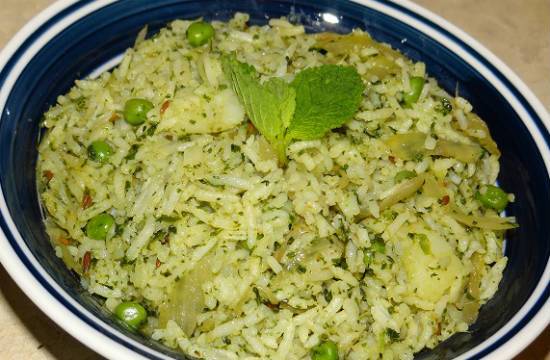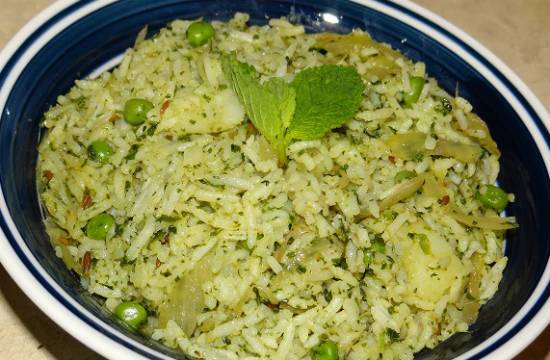 Ingredients:
Mint Leaves – 2 bunches, cleaned, chopped
Potatoes – 4 to 5, chopped
Coriander Leaves – big handful, chopped
Cooked Rice – 2 cups
Green Chillies – 5
Ginger Garlic Paste – 2 to 3 tsp
Red Chilli Powder – 1/2 tsp
Oil as required
Salt as per taste
Optional:
Green Peas – 1/4 cup, shelled
Onions – 1/2 cup, finely chopped or sliced
Method:
1. Heat little oil in a pan over medium flame.
2. Add the ginger garlic paste and green chillies.
3. Stir-fry for a minute.
4. Add the mint leaves and cook until the leaves start to wilt.
5. Remove the pan from flame and cool.
6. Add the coriander leaves and grind together to a smooth paste.
7. Add this to the rice and mix well.
8. In a separate pan, heat little oil and stir-fry the potatoes for 3 to 5 minutes.
9. Add salt and red chilli powder.
10. Stir well and cook until the potatoes are tender and cooked.
11. Add this to the rice and stir gently.
12. Serve.