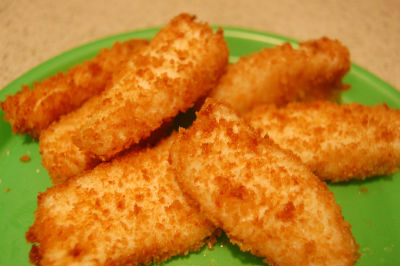 Ingredients:
Fish Fillets – 2
Egg – 1, whisked
Maida – 1/4 cup
Breadcrumbs – 1/2 cup
Onion – 1/2 cup, thinly sliced, separated into rings, covered with cold water and ice cubes until crisp
Black Pepper Powder as per taste
Salt as per taste
Extra-Virgin Olive Oil as required
For the sauce:
Honey – 2 tblsp
Red Wine Vinegar – 1/4 cup
Sea Salt – a pinch
Method:
1. Sprinkle salt and pepper powder on the fillets.
2. Spread the maida on a plate and lightly dredge the fillets.
3. Place the fillets on a tray.
4. Dip the fillets in the egg and coat them with the breadcrumbs.
5. Keep aside for 20 to 30 minutes in the fridge.
6. Combine all the sauce ingredients and blend well.
7. Heat oil for frying in a large pan.
8. Cook the fish fillets for 2 to 3 minutes on each side or until browned.
9. Remove and drain excess oil.
10. Drain water from the onions and pat fry.
11. Sprinkle over the fish and drizzle the sauce over.
12. Serve at once.