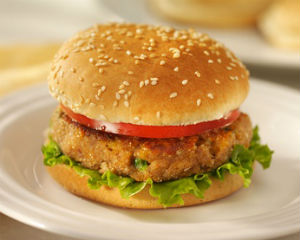 Ingredients:
Tuna in Brine – 225 gms, drained, flaked
Potato – 1, boiled, peeled, mashed
Breadcrums – 1/4 cup
Spring Onion – 1, finely chopped
Egg – 1, small, lightly beaten
Parsley – 1 tblsp, chopped
Burger Buns – 4, halved
Lettuce – few, chopped
Tomato – 1, sliced
Lime Wedges – few
Lemon Juice – 2 tsp
Salt as per taste
Pepper Powder as per taste
Mayonnaise as required
Method:
1. Combine the tuna, potatoes, onions, egg, breadcrumbs, parsley and lemon juice.
2. Mix well.
3. Add salt and pepper.
4. Mix again.
5. Shape the mixture into small round patties and keep them on a tray.
6. Place the tray in the fridge for 15 to 30 minutes.
7. Heat oil in a large frying pan.
8. Fry the tuna patties until golden brown on each side.
9. Remove and drain excess oil.
10. Spread the mayonnaise on the buns.
11. Add one of the tuna patty, lettuce leaves and sliced tomato to one half.
12. Sprinkle some black pepper powder and cover with the other half.
13. Serve with lime wedges and sauce.