Pad Kee Mao (or Drunken Noodles or Pad Khi Mao) is a quick and easy spicy stir-fried noodles popular in Thailand. Though no alcohol is added to this dish, Khi means drunkard in Thai.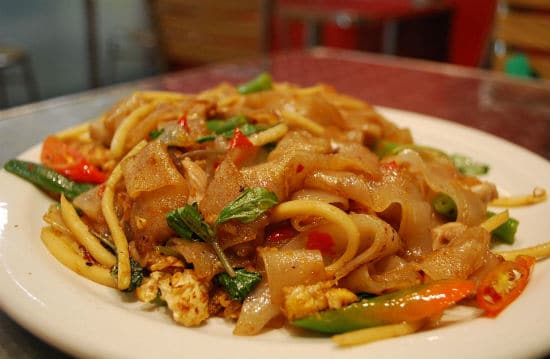 Ingredients:
Flat Rice Noodles – 100 gms
Oil – 1 tblsp
Garlic – 2 cloves, minced
Green Chilli – 2, sliced
Chicken – 100 gms, minced
Red Capsicum – 1/4 cup, chopped
Tomato – 2 tblsp, chopped
Basil Leaves (or Coriander Leaves) – 1 tblsp, chopped
Optional:
Bean Sprouts – 50 to 100 gms (optional)
For the Sauce:
Oyster Sauce – 3 tsp
Sweet Soy Sauce – 1 1/2 tsp
Fish Sauce – 1 tsp
Water – 3 tsp
Sugar – 1 tsp
Method:
1. Cook the noodles as per packet instructions.
2. Strain and rinse until cold running water.
3. Drain well and keep aside.
4. Mix all the sauce ingredients in a bowl.
5. Heat oil in a pan over medium flame.
6. Stir-fry the garlic and green chillies for 30 to 60 seconds.
7. Add the minced chicken and stir well.
8. Cook until the chicken starts to change colour.
9. Add the capsicum, tomato, noodles and sauce.
10. Mix well and cook for a minute.
11. Add the basil leaves and stir to mix.
12. After a minute, remove and serve at once.