A delicious and super simple tea time or evening snack. Serve with tomato ketchup or any spicy chutney of choice.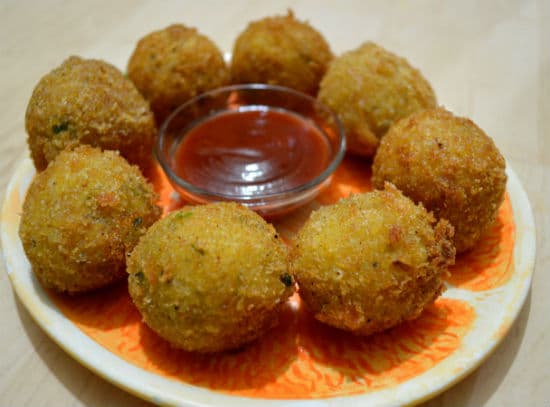 Ingredients:
Mozzarella Cheese – 150 to 200 gms
Potaoes – 6 to 8
Onions – 2, big, finely chopped
Green Chillies – 5 to 6, finely chopped
Breadcrumbs – 100 gms
Corn Flour – 1/4 cup
Black Pepper Powder – 2 tsp
Salt as per taste
Oil as required
Method:
1. Boil the potatoes, peel the skin and mash well.
2. Heat little oil in a pan over medium flame.
3. Saute the onions and green chillies until onions turn golden brown.
4. Add the mashed potatoes, salt, pepper powder and stir well.
5. Switch off the flame and allow it to cool.
6. When it is cool enough to handle, make small balls of the mixture and shape them into a cup.
7. Add some cheese into each cup and roll them into small/medium balls.
8. Add some water to the cornflour and mix well.
9. Dip the prepared balls in the cornflour and roll them in the breadcrumbs.
10. Heat oil in a deep frying pan over medium flame.
11. Fry the prepared cheese balls until golden brown.
12. Remove and drain excess oil.
13. Serve with tomato ketchup.