Yam or Taro is a rich source of nutrients, especially fiber, magnesium, iron, potassium, manganese, zinc along with Vitamins A, C, E and B6. It also contains a good amount of antioxidants.  Yam helps in reducing the risk of diabetes, improves eyesight, bolsters immunity and heart health.
Thogayal is a South Indian chutney often served with cooked rice and a side dish of choice. This recipe is one variation of the thogayal with Yam.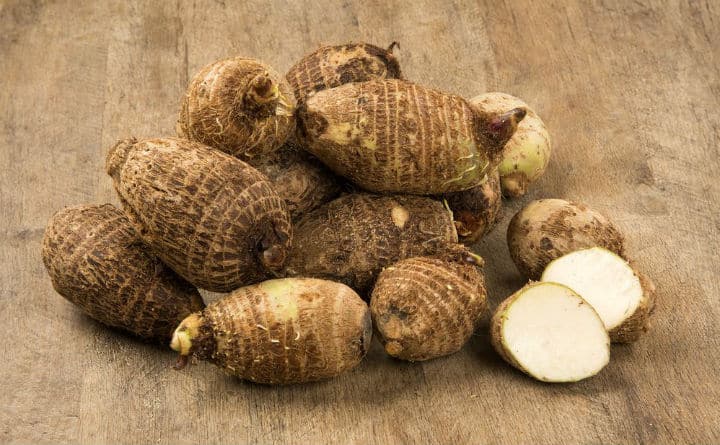 Ingredients:
Yam (Taro Root) – 100 gms
Tamarind – small ball size
Urad Dhal – 2 tblsp
Dried Red Chilies – 2
Onion Vadagam – 1
Asafoetida – 1 tsp
Oil – 3 tblsp
Salt To Taste
Method:
Peel the outer skin and grate the yam.
Heat oil in a pan.
Temper the urad dhal , red chillies, asafoetida, onion vadagam and fry well.
Keep it aside.
Add oil to the same pan.
Add the grated yam and cook well.
Grind the fried ingredients in a mixer without adding water.
Add the cooked yam, tamarind and salt to the above mixture.
Add very little water and grind it to a thick paste.
If needed, add little jaggery (optional).
Serve this thogayal with rice, idli, dosai or upma.