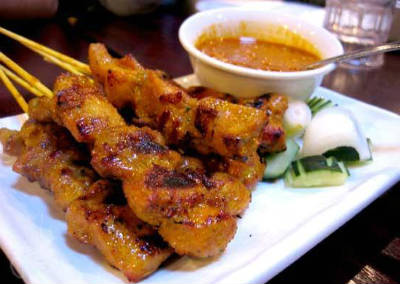 Ingredients:
Chicken – 200 gms, chopped
Small Onions – 2
Garlic – 1 clove
Lemongrass – 1/2 stalk, sliced
Sugar – 1/2 tsp
Coriander Powder – 1/2 tsp
Cumin Powder – 1/2 tsp
Turmeric Powder – 1/2 tblsp
Cinnamon Powder – a pinch
Peanuts – 1/2 tblsp, roasted
Oil – 2 tblsp
Salt as per taste
Bamboo Skewers soaked in water for 30 minutes
For the sauce:
Ginger – 1/3 tsp, minced
Onion – 1/2, small
Lemongrass – 1/2 stalk, crushed
Oil – 2 tblsp
Peanuts – 50 gms, roasted, coarsely powdered
Tamarind Paste – 1/2 tblsp
Sugar – 2 tblsp
Water as required
Method:
1. Grind the small onions, garlic, lemongrass, sugar, coriander powder, turmeric powder, cinnamon powder and peanuts.
2. Add oil and mix well.
3. Mix this with the chicken pieces and marinate for 8 hours in the fridge.
4. To make the sauce, grind the ginger, onion and lemongrass.
5. Heat little oil in a pan and add the ground paste.
6. Stir-fry until browned.
7. Add the peanuts, tamarind and sugar.
8. Add a little water and cook until oil starts to float to the top.
9. Skewer the marinated chicken pieces and cook on a preheated grill for 15 minutes.
10. Baste from time to time with any leftover marinade.
11. Serve with the sauce.