A tasty, healthy and easy to make Mediterranean style salad with chicken, chickpeas and cherry tomatoes.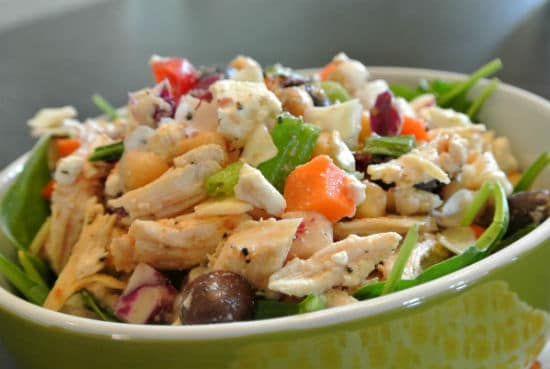 Ingredients:
Chicken Thighs – 2, boneless
Olive Oil – 2 tsp
Chickpeas – 200 gms, soaked for 6 to 8 hours in slightly salted water
Green Olives – 1/4 cup, pitted, chopped
Cherry Tomatoes – 2 to 3, chopped
Salad Leaves – half a bunch
Lemon Juice – 4 to 5 tsp
Salt as per taste
Black Pepper Powder as per taste
Optional:
Carrot – 1, diced
Red Onion – 1, diced
Feta Cheese – 1/2 cup, crumbled
Cucumber – 1, small, diced
Method:
1. Pound the chicken using a rolling pin until it is 1/4 inch thick. Cut them into bite-sized pieces.
2. Rinse and drain the chickpeas.
3. Sprinkle salt and black pepper powder on the chicken.
4. Heat oil in a nonstick pan over medium flame.
5. Add the chicken and cook for about 10 to 15 minutes, turning once or twice.
6. Remove and transfer to a plate.
7. Add the chickpeas, tomatoes and olives to the same pan.
8. Cook for 2 to 3 minutes.
9. Sprinkle salt and pepper powder.
10. Transfer to a large serving bowl.
11. Add the salad leaves, lemon juice and chicken pieces.
12. Toss well and serve.