Masala dosa is a favorite breakfast dish. Serve hot with chutney and sambar.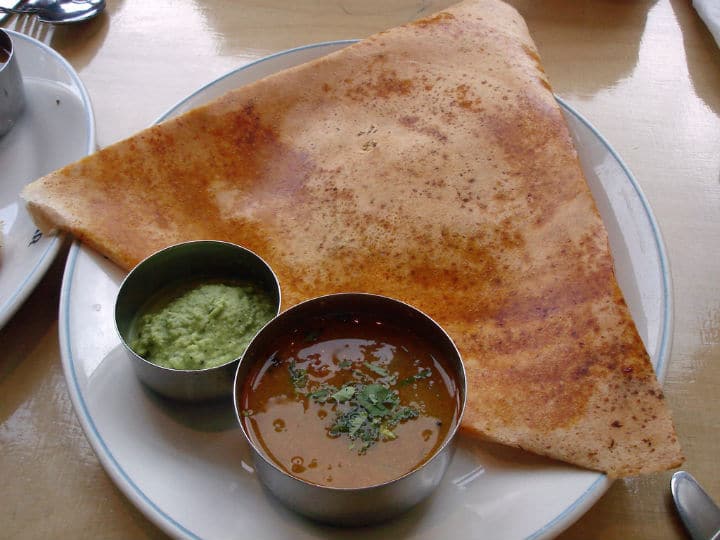 The staple food of South India, Dosa is famous all over India and is known as the 'Pancake of India' in foreign countries. Made from rice batter, dosa is rich in protein and carbohydrates. Different types of dosa like mysore masala dosa, Pesarattu, neer dosa, benne dosa, etc. are cooked and relished in various parts of South India.
Masala dosa is very popular since it is delicious to taste and is packed with some key nutritional elements as well. A mixture of urad dal and rice batter, chopped raw onion or onion masala with stuffed potato enhance its taste seamlessly. It is appetizing, satiates your hunger and is easy to digest. Rich in fiber, urad dal improves your digestive system. People suffering from indigestion can include it in their daily diet to eventually get rid of indigestion.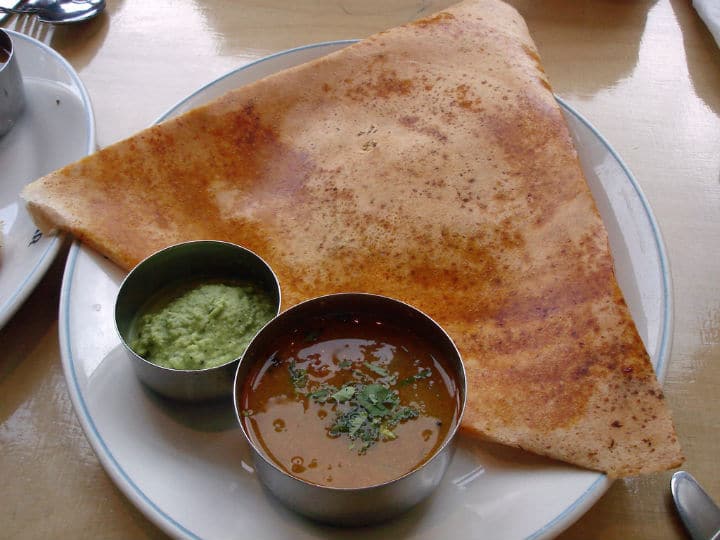 We can have it in breakfast as it provides a lot of carbohydrates that energizes us for our daily routine. It can also be eaten as a snack in the evening. Dosa is also endowed with iron and calcium. Calcium takes care of the bone health whereas iron helps in producing important hormones of blood like hemoglobin and myoglobin. Being loaded with anti-oxidants, the onion in a masala dosa keeps your heart healthy.
It is extremely beneficial for people with problems of obesity. Dosa is low in fat and therefore is a good option for those who are on a diet. It also contains a lot of vitamins which are needed for tissue growth and repair.
It is widely speculated that dosa has originated in a town called Udipi which is located in the southern part of Karnataka. The present-day dosa is much thinner and crispier and comes in different flavors and shapes as well. It is presented in triangular or cone shape or is simply rolled and stuffed with veggies from inside. The sambar, made from pulses, is highly beneficial for health. Besides sambar, you can have it with coconut chutney as well. Coconut is rich in minerals like copper, manganese, zinc and is also a good source of B-complex vitamins.
Due to its mouth-watering taste, it is a favorite breakfast dish amongst teens. You can garnish it with chopped coriander leaves and green chillies and it tastes the best when served hot.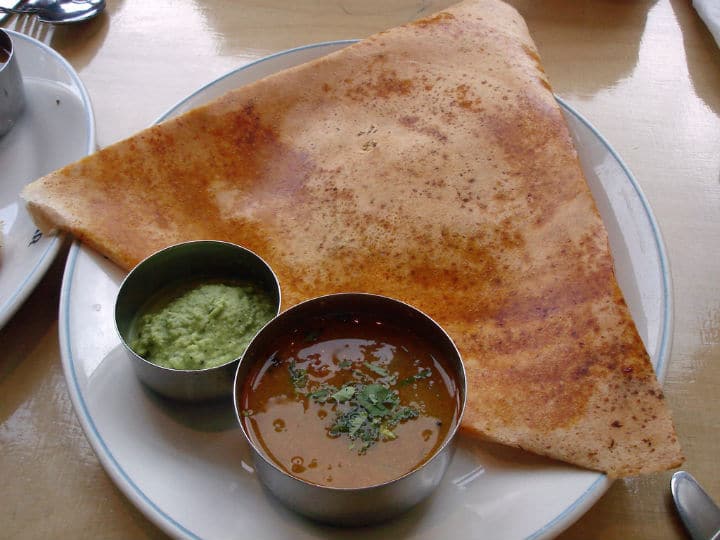 Masala Dosa
Masala dosa is a favorite breakfast dish. Serve hot with chutney and sambar.
Ingredients
For the dosa batter:
1

cup

Parboiled Rice

1

cup

Raw Rice

1/2

cup

Urad Dal

2

tsp

Bengal Gram Dal

1/4

tsp

Fenugreek Seeds

as per taste

Salt

as required

Oil
For the potato masala:
250

g

Potatoes

chopped, boiled, peeled, chopped

1

no

Onion

chopped

2

nos

Green Chillies

chopped

1/2

inch

Ginger

peeled, chopped

handful

Curry Leaves

handful

Coriander Leaves

1/4

tsp

Mustard Seeds

1/4

tsp

Urad Dal

1/4

tsp

Bengal Gram Dal
Instructions
Soak the parboiled rice and raw rice for 3 hours together.

Soak the dals and fenugreek for 3 hours.

Drain and grind them separately to a fine batter.

Add salt and mix both the batters.

Keep aside for 8 hours or overnight to ferment.

To make the potato masala, heat oil in a pan over medium flame.

Fry the mustard seed, urad dal and bengal gram dal for 30 seconds.

Add the curry leaves, onions, ginger and green chillies.

Add turmeric powder and stir well.

When the onions turn light brown, add the potatoes and salt.

Mix well.

After 2 minutes, add the coriander leaves and mix. Remove and keep aside.

Heat a tawa over medium flame.

Pour a ladleful of the batter and apply oil around the edges.

Cook on one side and flip it over.

Add 2 tblsp of the potato masala and fold the dosa lightly.

Do not fold fully.

Cook for a minute or two and transfer to a serving plate.

Serve hot with chutney and sambar.