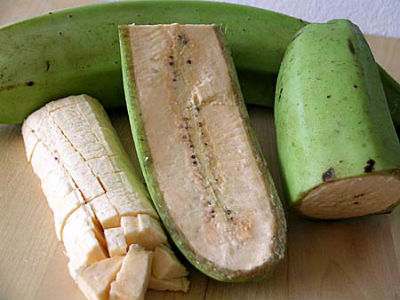 Ingredients:
Raw Bananas – 1, peeled, slit lengthwise, cubed
Small Onions – 2, chopped
Green Chillies – 1, chopped
Pepper Powder – 1/4 tsp
Red Chilli Powder – 1/2 tsp
Turmeric Powder – 1/4 tsp
Salt – 3/4 tsp or as per taste
Thick Curd – 1 cup, whisked
Ground to a fine, smooth paste:
Coconut – 1/2, grated
Small Onions – 1, chopped
Cumin Powder – a pinch
Water – 3/4 cup
For Tempering:
Coconut Oil – 3/4 tblsp
Mustard Seeds – 1/2 tsp
Fenugreek Seeds – 1/2 tsp
Small Onions – 1, chopped
Curry Leaves – handful
Method:
1. Heat a pan over moderate heat.
2. Add the cubed bananas with small onions, green chillies, pepper powder, red chilli powder, turmeric powder, salt and 1/2 cup water.
3. Reduce heat and cook for about 10 minutes.
4. Add curd and simmer for 4 to 5 minutes.
5. Add the ground paste.
6. Simmer over low heat till the gravy thickens.
7. Heat oil in a pan for tempering.
8. Add the mustard seeds, curry leaves and fenugreek seeds.
9. When the mustard seeds start to splutter, add the onions and fry till brown.
10. Pour this into the banana currry.
11. Mix well and serve hot.
image credit: nandyala