A traditional, tangy and easy to make sambar with eral (prawns) is not only mouthwatering, it is also delicious. Best served with hot rice.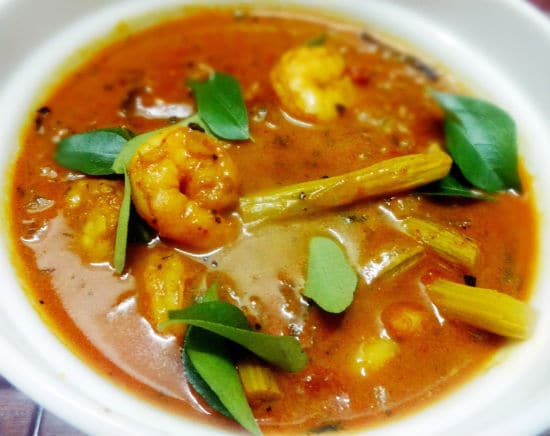 Ingredients:
Eral (Prawns) – 100 gms
Onion – 1, chopped
Tomato – 1, chopped
Potato – 1, small
Drumstick – 1/2 (or 1 small), chopped
Red Chilli Powder – 1 tsp
Turmeric Powder – a pinch
Ginger Garlic Paste – 1/2 tsp
Saunf – 1/4 tsp
Ground Coconut Paste (or Coconut Milk) – 1/4 cup
Salt as per taste
Oil as required
Curry Leaves – few
Coriander Leaves – handful
Method:
1. Peel, de-vein, clean, wash and chop the eral.
2. Sprinkle salt and turmeric powder.
3. Cook for 5 to 10 minutes.
4. Boil, peel and chop the potatoes.
5. Heat oil in a pan over medium flame.
6. Fry the saunf and curry leaves for 10 seconds.
7. Add the onions, tomatoes, ginger garlic paste and saute well for a minute or two.
8. Add red chilli powder, sambar powder, turmeric powder, drumstick pieces and enough water. Do not pour too much water. The sambar should be very watery.
9. Cook for a minute.
10. Add the ground coconut and bring to a boil.
11. Add the potatoes and cooked eral.
12. Stir gently.
13. Garnish with coriander leaves.
14. Switch off the flame.
15. Serve with hot rice.