Perfect amalgamation of Indo-Chinese culinary.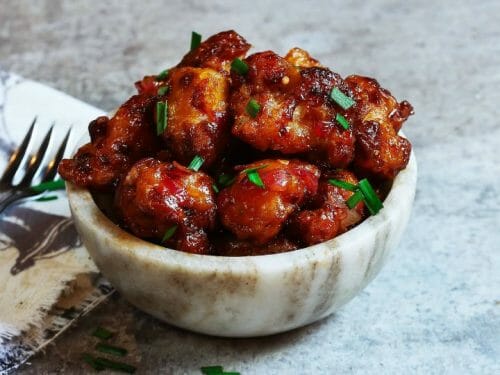 Paneer Manchurian is a perfect amalgamation of Indian and Chinese cuisines. Cooking paneer with veggies is an Indian tradition whereas frying Manchurian is a Chinese cooking practice. A combination of both these methods gives you a crunchy, deep and spicy flavored Paneer Manchurian which is good enough to give a surreal experience to your taste buds.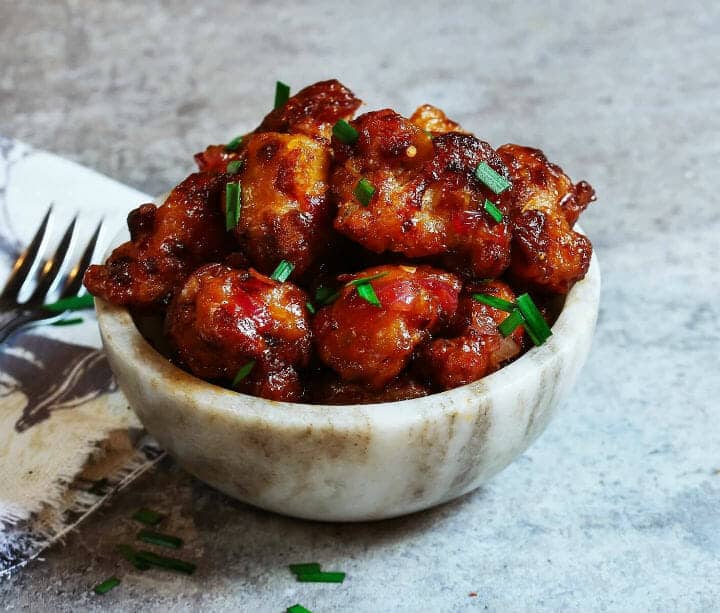 Some people like to keep their Manchurian dry whereas some people prefer it thick and saucy. Hot Paneer Manchurian can be relished with fried rice or Chinese Hakka noodles as per your taste preference. Adding one egg white is optional as vegetarians will not prefer it. However, adding the egg white gives a smooth consistency to the curry which is a trademark of the Chinese cuisine.
Add spring onions and celery to give it an authentic Chinese flavor but you can use regular onions and skip the celery if they are not available. You can also use Tofu instead of paneer and the Manchurian will still taste deliciously and exotic!
Do not forget to marinate the paneer cubes in the ginger-garlic paste for at least 10 to 15 minutes before frying them. Kids love this delicacy as they get to relish something unique and saucy. You can serve this dish with your regular homemade noodles as well and kids will devour it in no time.
Paneer is rich in proteins and the vegetables used make it even more nutritional. It proves to be a great appetizer and you can also have it as a late evening snack. Corn flour is added to thicken the gravy but add it slowly and stir occasionally to prevent the formation of small lumps. You can directly add the paneer cubes without frying them but fried ones certainly taste a lot better.
If you want to enjoy dry or masala Paneer Manchurian just avoid adding water and just drizzle it with extra sauce!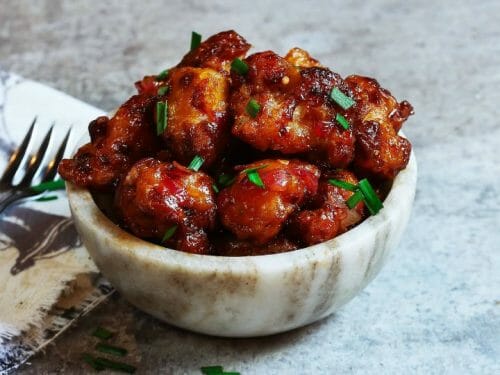 Paneer Manchurian

Recipe

Perfect amalgamation of Indo-Chinese culinary.
Ingredients for
Paneer Manchurian
1/2

cup

Flour

(Maida)

1/2

tsp

Chinese salt

2

tbsp

Cornflour

2

tbsp

Spring onions

chopped

2

tbsp

Soya sauce

3

nos.

Green chillies

chopped

4

tsp

Ginger-garlic paste

6

nos.

garlic cloves

finely chopped

200

g

Paneer/ Cottage Cheese

Salt to taste

Oil for frying

Few coriander leaves

chopped
How to make
Paneer Manchurian
Cut the paneer into square pieces.

Marinate the pieces with salt and two teaspoons of ginger-garlic paste and keep aside for 10 minutes.

Mix cornflour, flour, ginger-garlic paste, salt in a bowl and make a batter using a little water.

Dip the paneer pieces in this batter and fry in hot oil until they turn golden.

In another pan heat oil and fry the chopped garlic cloves.

Now add Soya sauce, spring onions, fried paneer pieces, green chillies, salt, Chinese salt, one and a half cups of water and let the ingredients simmer.

Take three teaspoons of cornflour and half a cup of water and mix well.

Add this to the boiling mixture and cook well until the sauce thickens.

Add coriander leaves and serve hot.
For Dry Version
Skip the sauce when the mixture is cooking to make a dry version.