A popular South Indian sweet pongal made during pongal festival and served during occasions.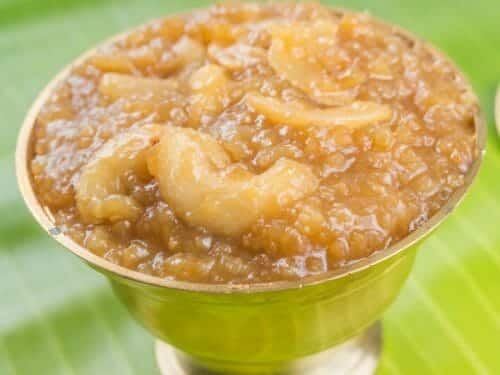 Sakkarai Pongal is a sweet variety of the ven pongal. Also known as sweet pongal, it is an integral part of the pongal festival and is made on the 2nd day of the harvest festival.
Made using jaggery, rice and dal, Chakkarai Pongal is often served as a dessert during traditional meals and weddings.  It is also served as a prasadam in temples during the pongal celebration.
Origin of Sakkarai Pongal:
For as long as folks have been involved in planting and collecting food, there has been some type of harvest festival. Pongal is one of the most auspicious festivals for the Hindu community. Every January, marks the beginning of the Tamil month, Thai. During this time the harvest festival or Pongal is celebrated in a grand manner. Thai Pongal is celebrated for four days in Tamil Nadu.
Thai Pongal is celebrated under different names across many states in India (i.e) Makara Sankranthi in Andhra Pradesh, Karnataka, Kerala, Bihar, Bengal, Orissa, Goa, Maharashtra, Madhya Pradesh, Manipur, Uttar Pradesh, and Telegana; Uttarayana in Gujarat and Rajasthan; Maghi in Punjab, Haryana, and Himachal Pradesh; Bhogali Bihu/Magh Bihu in Assam.
During the Tamil month of Thai, rice, sugarcane, cereals and turmeric are harvested. The main part of the celebration is making Sakkarai Pongal by using the first rice of the season, which is then offered to the Sun – Surya Maangalyam. The word 'Pongal' is derived from the Tamil word 'pongal' or Telugu word 'pongu', which means to 'spill over' or 'boil over'.
Significance of Sakkarai Pongal:
With Thai Pongal around the corner, it's time to learn about the significance behind the Sakkarai Pongal recipe, which is made exclusively for the Pongal festival. Sakkarai Pongal is a famous sweet dish which is prepared in earthenware pots on a wood fire. This practice is followed Tamil Nadu, Pondicherry, Andhra Pradesh, Telengana and Jaffna (Srilanka). There is a traditional practice of making Sakarai Pongal, during any Temple festival in Tamil Nadu,which is still followed at Hindu temples. This signifies good fortune and harvest for the year onward.
Thai Pongal is a key festival because much of the Tamil Nadu depends on agriculture to generate an income and sun is essential for good growth. Thai Pongal signifies the start of the sun's six month trip north (Uttarayan) and warmer climate. People also plan a get together in their homes to cook the Sakkarai Pongal.
Sakkarai Pongal is traditionally made with jaggery, rice, coconut, moong dal, and nuts. The rich brown color in pongal is obtained by adding jaggery. It is usually made in a courtyard or porch as it is specially made as 'prasadam' (offering) to Sun God to thank him for a good harvest. The clay pot in which the Sakkarai Pongal is prepared is decorated with vibrant patterns called kolam. Also, fresh turmeric plant would be tied around the neck of the pot in which Pongal will be made.
Once the Sakarai Pongal is made, it's offered to the Sun during prayers, and later served as a part of the lunch for the guests. As the rice grains used for the cooking are from the first harvest of the season, it signifies good fortune and harvest for the year onward. Hence, Sakkarai Pongal is predominantly made in all households during Pongal.
How Sakkarai Pongal is made?
On the day of Pongal, milk is boiled in a pot and when it starts to bubble, freshly harvested rice grains are added. Once it is semi cooked all other ingredients are added to the pot. When the Sakkarai Pongal starts to overflow, people will blow a sangu (conch) and shout 'Pongalo Pongal' and 'Thai Pirandhal Vazhi Pirakkum' (Good times start with Thai month). Once the Sakkarai Pongal is made, it is served to the family members and guests along with sweets and savories such as paayasam, vadai, and murukku.
Nutritional value of Sakkarai Pongal:
Though Sakkarai Pongal is a sweet dish, it is highly nutritious especially for kids. Each ingredient used in the preparation of Sakkarai Pongal holds some nutritional value.
It is a well-known fact that sweet food acts fast on the taste buds. Eating the sweet dish first improves the flow of digestive secretions. Traditional sweets like Sakkarai Pongal are perfect to take before your meal. Based on a recent Ayurvedic research, sweet plays an important part in active living. It's essential for tissue development and when taken in moderation, sweets are even considered as medicine.
Rice is a crucial staple food for Asians, especially South Indians. It is the most in-demand food across the Asian countries. Wholegrain Rice contains more than 15 vitamins and minerals which help to safeguard our body against diseases and also helps in body growth.
Jaggery is a natural sweetener prepared by boiling the juice extracted from sugarcane. It is a traditional form of sugar consumed in Africa, Asia, the Caribbean and Latin America. It is a good source of instant energy, containing minerals and other micronutrients that is absent in refined granulated sugar. It is used as a base material to make a few Ayurvedic syrups.
Ghee is clarified butter and is made by simmering butter until it becomes clear. Ghee is loaded with nutrients and is also used for cooking, cleansing and in religious rituals.
The turmeric leaves are regarded as auspicious in India and is regularly used in various Indian ceremonies. It has strong anti-inflammatory properties and are also used to prepare herbal concoctions to fight off fever, cold, and other respiratory allergies. Fresh turmeric roots have enough nutrients to protect us from anemia, neuritis, memory disorders, cancers, infectious diseases, high blood pressure and strokes.
If you want to give a healthy dessert to your kids, then make Sakkarai Pongal for this Thai Pongal.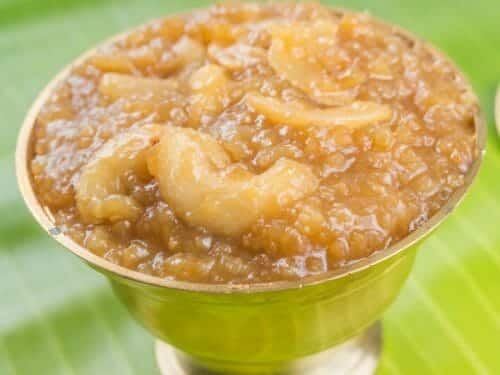 Sakkarai Pongal
A popular South Indian sweet pongal made during pongal festival and served during occasions.
Ingredients
2

cup

Raw Rice

1

cup

Green Gram Dal

lightly dry roasted

4

cup

Jaggery

grated

5 to 6

tbsp

Ghee

20 to 25

Cashewnuts

broken

20 to 25

Raisins

1

tsp

Cardamom Powder

10 to 12

cup

Water

1/2 to 1

tsp

Kesari Powder

optional
Instructions
Combine the dal and rice.

Wash well and pressure cook with water till 4 whistles.

Meanwhile, add little water to jaggery and cook till it dissolves fully.

Strain the jaggery syrup and keep aside.

Heat a pan over moderate flame.

Add the jaggery syrup and cook till it reaches a soft ball consistency.

Add the rice and dal mixture and stir gently.

In a small frying pan, heat ghee and fry the raisins and cashewnuts.

Pour this over the pongal.

Add cardamom powder and stir well. If you want the pongal to have the dark red/brown colour, add kesari powder and mix well.

Cook till the pongal is thick.

Remove and serve hot.
Notes
Soft ball consistency means when a drop of jaggery is dropped into a bowl of water, it forms a soft ball.