A classic salad with a delightful fusion of savoury and sweet flavours, offering a refreshing and satisfying experience.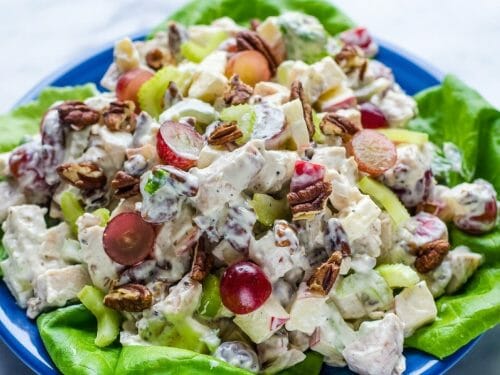 Indulge in the exquisite combination of tender chicken, crisp apples, crunchy celery, and toasted walnuts in this refreshing and satisfying Chicken Waldorf Salad. This classic salad takes inspiration from the famous Waldorf Astoria Hotel in New York City, where it was first created in the late 19th century. With its savoury and sweet elements blend, this salad offers a delightful fusion of flavours and textures that will leave your taste buds craving more.
The succulent pieces of seasoned chicken add a savoury and protein-rich element to the salad. At the same time, the fresh apples provide a crisp and juicy sweetness. The celery contributes a refreshing crunch, and the toasted walnuts bring a nutty and earthy aroma. All these ingredients are beautifully bound together with a creamy dressing, creating a harmonious blend of comforting and refreshing tastes.
Chicken Waldorf Salad is not only a delicious dish on its own but also a versatile one. It can be served as a light lunch, a satisfying dinner, or a side dish for barbecues and picnics. Its balanced combination of flavours makes it a crowd-pleaser and pairs well with various other dishes. Serve it alongside grilled meats, sandwiches, or even as a topping for crostini. The options are endless, allowing you to explore different culinary possibilities.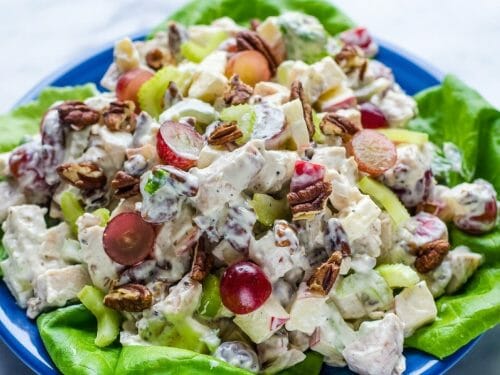 Chicken Waldorf Salad

Recipe

A classic salad with a delightful fusion of savoury and sweet flavours, offering a refreshing and satisfying experience.
Ingredients for
Chicken Waldorf Salad
300 to 400

g

Chicken Breast Fillets

1

Garlic Clove

crushed

3

tsp

Extra-Virgin Olive Oil

1

Green or Red Apple

finely sliced

1/4

cup

Black Grapes

1 1/2 cups

Salad Greens or Lettuce

25

g

Walnuts

2

tbsp

Pomegranate Seeds

as per taste

Salt

as per taste

Black Pepper Powder
For the dressing:
3

tsp

White Balsamic Vinegar

3

tsp

Spring Onions

finely chopped

1 1/2

tsp

Extra-Virgin Olive Oil
How to make
Chicken Waldorf Salad
Combine the salt, pepper powder, oil and garlic in a large bowl.

Add the chicken and toss well to coat.

Char-grill the chicken for 5 minutes on each side or until cooked through.

Slice and keep aside.

Toast the walnuts and roughly chop them.

Combine all the dressing ingredients, salt and pepper powder in a bowl.

Combine the apples, grapes, walnuts, pomegranate seeds and dressing in a bowl.

Place the salad greens on a plate and top up with the chicken pieces.

Pour the dressing mixture on top.

Serve at once.
Frequently Asked Questions about Chicken Waldorf Salad
Can I use a different type of meat instead of chicken in the Waldorf salad?
Absolutely! While Chicken Waldorf Salad traditionally uses chicken as the main protein, you can explore other options. Try substituting the chicken with grilled or roasted turkey for a flavorful twist. You can also use cooked shrimp, poached salmon, or tofu for a vegetarian version. The key is to choose a protein that complements the other ingredients and maintains the overall balance of flavours in the salad. Experiment with different meats to create your unique variation of this classic salad.
Can I make Chicken Waldorf Salad in advance?
Yes, you can! Chicken Waldorf Salad is a great make-ahead dish. Prepare all the ingredients, including the cooked chicken, apples, celery, and walnuts, and store them separately in airtight containers in the refrigerator. When you're ready to serve, toss the ingredients with the dressing, and you're ready to go. This salad can be refrigerated for up to 24 hours without compromising its taste and texture. It's a convenient option for meal prepping or for preparing in advance for gatherings and events.
Can I customize the dressing for Chicken Waldorf Salad?
Definitely! The dressing for Chicken Waldorf Salad traditionally consists of mayonnaise, lemon juice, and a touch of honey or sugar. However, you can personalize the dressing to suit your taste preferences. Add a splash of apple cider vinegar or Dijon mustard for a tangier flavour. You can substitute some mayonnaise with Greek yoghurt or sour cream if you prefer a lighter dressing. Additionally, you can experiment with herbs and spices such as dill, parsley, or even curry powder to add a layer of complexity to the dressing. Feel free to get creative and adjust the dressing according to your liking.
Can I add additional ingredients to the Chicken Waldorf Salad?
Absolutely! While the classic Chicken Waldorf Salad includes chicken, apples, celery, and walnuts, you can add extra ingredients to enhance the flavours and textures. Some popular additions include grapes, raisins, dried cranberries, or sliced almonds for sweetness and crunch. You can also incorporate fresh herbs like parsley or tarragon for a burst of freshness. Feel free to experiment and make the salad your own by adding enjoyable ingredients. Just keep in mind the overall balance of flavours and textures, ensuring that the additional ingredients complement the existing ones.
Can I serve Chicken Waldorf Salad with other dishes?
Absolutely! Chicken Waldorf Salad is a versatile dish paired with various other foods. It makes a beautiful addition to a buffet or potluck spread alongside other salads like potato salad or coleslaw. Serve it as a light lunch with crusty bread or a refreshing dinner alongside grilled vegetables or roasted potatoes. It also works well as a filling for sandwiches or wraps. The combination of flavours and textures in the Chicken Waldorf Salad complements a wide range of dishes, making it a versatile choice for any occasion.