Capsicums are a rich source of beta carotine, capsaicin, Vitamins A & C. This recipe for capsicum fried rice combines the goodness of the bell peppers and the delicacy of the fried rice in one simple and easy to make dish. Serve for lunch or dinner.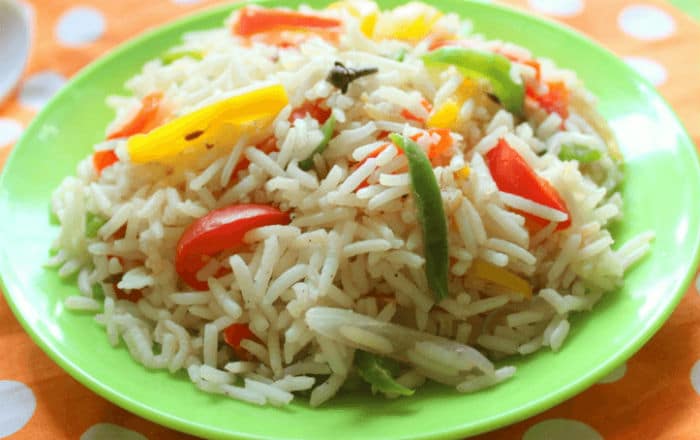 Ingredients:
Rice – 1 cup
Capsicum – 1/2 cup, chopped (any colour or a combination)
Green Chillies – 2
Mustard Seeds – 1/2 tsp
Urad Dal – 1/2 tsp
Peanuts – 15
Curry Leaves – few
Turmeric Powder – 1/4 tsp
Coriander Leaves – 1 spoon
Coconut – 2 tblsp, grated
Sugar – 1/4 tsp
Lemon Juice – 1 tsp
Salt to Taste
Oil – as required
Method:
Pressure cook the rice and keep it aside to cool.
Rice should not stick together.
To a pan, heat oil in medium flame.
Add the urad dal, mustard seeds and fry.
Add the peanuts, curry leaves and green chillies.
When they are roasted well, add the capsicum, turmeric powder, sugar and salt to taste.
When they are cooked, add the rice, coriander leaves, lemon juice and grated coconut and stir well.
When they are mixed thoroughly, remove from flame.
Serve hot.