A delicious and simple stir-fry with cabbage popular in Kerala and part of the Onam Sadya menu. Serve as a side dish with rice or roti.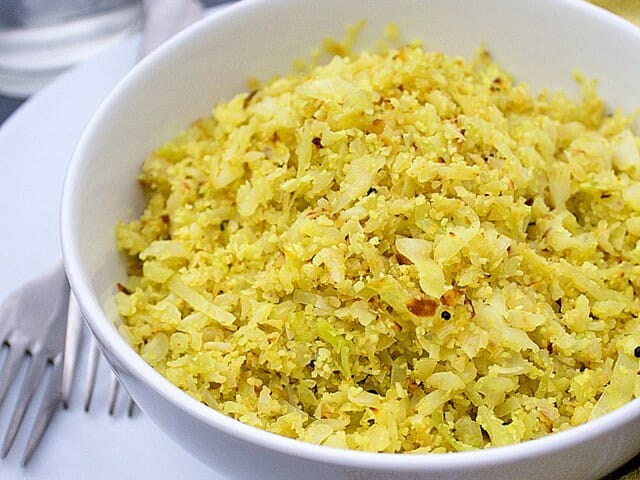 Ingredients:
Cabbage – 100 gms, finely chopped
Red Onions – 100 gms, finely chopped
Coconut Oil – 2 tsp
Coconut – 1 cup, grated
Mustard Seeds – 1/2 tsp
Urad Dal – 1 tsp
Dry Red Chillies – 3 to 4, depending on size
Cumin Seeds – 1/4 tsp
Turmeric Powder – 1/4 tsp
Red Chilli Powder – 1/4 tsp
Salt as per taste
Curry Leaves – few
Method:
1. Heat oil in a pan over medium flame.
2. Fry the mustard seeds and urad dal for 20 seconds.
3. Add the cumin seeds and fry for another 10 seconds.
4. Add the onions and saute until translucent.
5. Add the curry leaves, red chilli powder, turmeric powder, red chillies and stir well.
6. Add the chopped cabbage and cook for 5 minutes on low flame or until cooked.
7. If desired, cover the pan with a lid.
8. Add the grated coconut and mix well.
9. Cook for a minute or two or until all moisture has evaporated.
10. Remove from flame and serve hot.